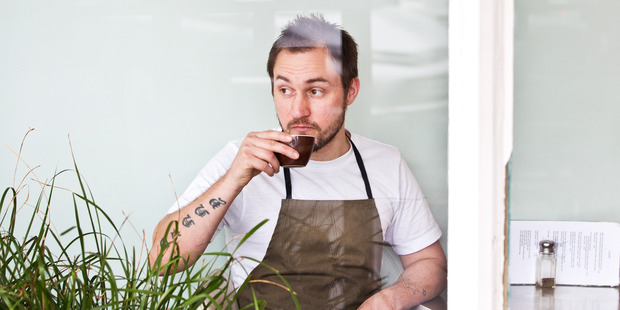 Forget about pomp and pretension, there's a new wave of neighbourhood dining where the food and wine is every bit as fine but the setting is sociable, relaxed and fun.
Since allowing their cafe, Monterey, in Grey Lynn to be used to host a raft of evening pop-up dining events, Paul Ryan and Mira Jukic (the creators of Dizengoff and Herzog) decided to enlist the instigator of these booked-out events, chef Dan Pearson (pictured) to head up their kitchen permanently and from next week they add evening dining to their daytime offering.
Pearson started out working the burger vans of Northampton, England, and quickly progressed to cooking in Michelin-starred establishments like London's Foliage.
In New Zealand this talented young chef was appointed head chef at Bracu, then he set up the Egg and Spoon pop-up restaurant and in each event was able to attract a full house and a stunning line-up of chefs to work alongside him.
Pearson is excited about bringing his fine-dining experience to a neighbourhood eatery because it gives him the chance to do it in a very unexpected way.
"The pop-ups made me realise NZ diners love fine food but they also like a more sociable, informal environment. We're opening the downstairs dining room to offer my version of 'bistronomy', with dishes like fried rabbit with mustard and herb mayo, venison hot pot and freshly baked warm madeleines.
"Then, in the upstairs dining room, we'll be serving a five-course menu and diners can expect complex and adventurous dishes such as hay-smoked monkfish with caramel cauliflower puree, tea-soaked golden raisins, burnt butter and raw cauliflower couscous, but they'll be seated around a 10-seat communal dining table and the atmosphere will be relaxed and intimate.
"To me food is an art form but it needn't be stuffy."
Monterey
Address: 432 Richmond Rd, Grey Lynn,
Phone: (09) 360 0488,
montereygreylynn.com
Evening dining, downstairs open Weds to Sat from October 2, upstairs Fri & Sat (bookings essential), set menu, five courses, $75pp.
- VIVA