Spring/summer, autumn/winter? Seasonality in fashion is becoming irrelevant, Andrew Glenn says, especially in the Southern Hemisphere where it's hard to know exactly what collection we should be buying from now.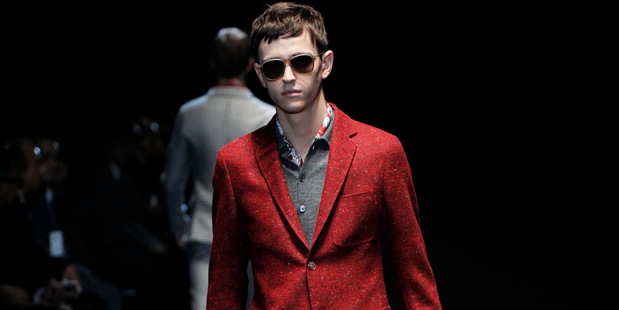 The suggested topic for this month's column was to focus on the new season's collections, with all that's coming into stores this month.
A great idea ... but then suddenly I wondered, which season did the editor mean? The spring/summer clothes coming into store? Or the autumn/winter ones hitting shops from the world's leading fashion players?
I've long been perplexed by the global fashion industry's disregard for the Southern Hemisphere when it comes to creating and marketing their collections. In August, European and American fashion houses deliver their autumn collections, just as we start to feel the first tingles of spring.
That said, about 90 per cent of the world's population live in the Northern Hemisphere so from a business point of view, it makes sense.
The notion of seasons, as it relates to high fashion, has turn-of-the-century roots. The wealthy used to clearly separate their wardrobes between summer and winter and wealthy women would attend fashion shows in Europe to order their seasonal wardrobes from top fashion houses, to be sent to their "summer" and "winter" homes respectively.
Then in the 1960s, the jumbo jet made the world a much smaller place. Denim in the 70s made it a more casual place. Fast track to 2013 and we (thankfully) now live in a far more democratic fashion world.
But if 90 per cent of us live in the Northern Hemisphere, I wonder how many actually live below the Tropic of Cancer, in the tropics? My point being that the notion of fashion seasonality is somewhat irrelevant. How relevant are seasonal collections to those who live in Thailand, where seasons are just differentiated by "wet" and "dry"? I grew up in Hong Kong where our winters were mild, but wealthy "tai tais" (aka ladies who lunch) would nevertheless start wearing fur coats when the barometer went below 18C.
Fashion designer Azzedine Alaia eschews the two-season rule and creates new collections only when he's ready. I admire his determination to break with convention. The frequency of fashion seasons, and all the trends that go along with them, are designed to make you always want what's new. After all, who wants to look "last season"? Joanna Lumley's character Patsy on Absolutely Fabulous once noted that the cycles of fashion were moving so fast that when her clothes came back from the dry cleaners,there was already a revival.
Truth is, no one can afford to buy a new wardrobe each season, nor would you want to. And how much change can happen in fashion within a season? In men's fashion we are largely constricted to key silhouettes: jackets, trousers, shirts and the like. Changes are largely based on colour, fabric and pattern. Therefore, I think common sense dictates investing in clothes that will enhance your wardrobe and build on it, not completely change it. Clothes that have longevity of style and construction. In fashion I think it's best to think style and not trend; to be bold but not brash.
The good news for us in New Zealand, the minority 10 per cent, is that we can take advantage of end-of-season sales online. So in August look at sales on the likes of ASOS, Gap, J.Crew, and Topman. Conversely, at the end of our summer, you can get online to find great winter clothing sales. I often find great cashmere sweaters in January on J.Crew at a fraction of the original price.
However looking at the AW13 menswear shows, a key trend you can adapt into your wardrobe is investing in the colour GQ calls "claret". I think it's a beautiful colour that remains masculine when mixed with grey, navy, olive and other dark shades.