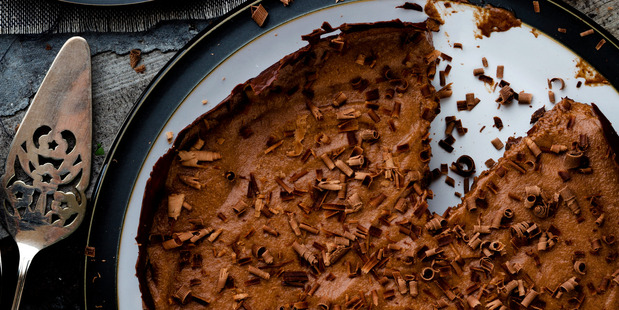 Serves 6-8
• 400g dark chocolate
• 50g butter
• 4 eggs, separated
• ¼ cup sugar
• 200ml cream
• Grated chocolate for garnish


1. Line a 20cm round tin with tinfoil.
2. Place 200g chocolate in a heatproof bowl and place over hot water. Melt until completely smooth. Spoon it into your lined tin. With the back of a spoon, spread the chocolate evenly, creating a shell about 2mm thick. Refrigerate until ready to fill.
3. Place the remainder of the chocolate, with the butter, in a heatproof bowl over hot water and melt until smooth. Remove from the heat, let it cool for a few minutes and stir in the egg yolks.
4. In a clean bowl, whip egg whites until you have soft peaks. Slowly add the sugar to the egg whites.
5. Whip cream lightly. Gently fold the cream and egg whites into the chocolate, until well combined.
6. Pour into chocolate box. Cover and refrigerate for 2 or more hours. Remove from the fridge and carefully take off the tinfoil. Grate extra chocolate over before serving.


- VIVA