Would you dare to lop off your hair? We've got pictures and words to inspire you to take a short cut.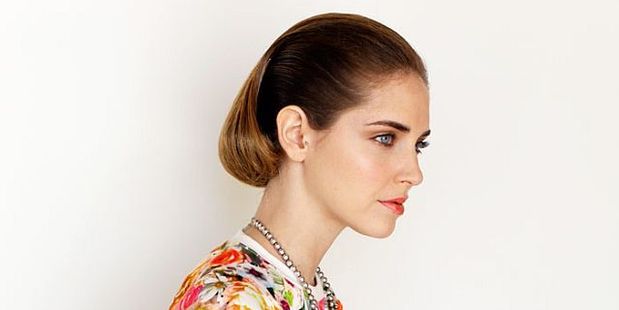 Check out famous dames who've dared to go for the chop. Do you think it's for better or worse? Comment below.
The Faux Bob
It's one of the looks of the season and has the benefit of leaving your hair long, but looking like it has had the chop. We're talking about the faux bob, a handy styling trick used on celebrities and models who don't want to lose their locks.
Redken's global styling director Guido demonstrated the faux bob and other styles on blogger Chiara Ferragni of The Blonde Salad at New York Fashion Week.
He was also responsible, as usual, for some of the week's standout looks at shows for Marc Jacobs, Calvin Klein, Alexander Wang and more. (We're picking his two-tone ponytail for Wang and the 70s do at Marc Jacobs are bound to be much-imitated editorial looks).
To create Chiari's faux bob, Guido used a volume spray foam to blow-dry her hair back from the face with a round brush. Try this look at home by rolling up each section as you go, pinning in place with clips and applying a small amount of shine serum.
When hair is completely dry, undo the clips and brush back. Using a small sausage-shaped donut pad, roll the hair, starting at the ends, until you have created a bob length. Secure with large U-shaped pins. Tuck the sides behind the ears and spray well, smoothing down with your hand. Apply more shine serum for a brilliant finish.
Guido used the new Redken Diamond Oil Shatterproof Shine Intense ($45), the hero product from a range being launched next month in Australasian salons, ahead of any other global territory. It is a silicone-free mix of plant oils that gives the ideal finish to sleek, straight styles, such as the bob.
Supermodel Snap
Kate Moss has been announced as the face of salon haircare brand Kerastase's first styling range.
A sneak peek from the campaign that will launch the products coming to market later in the year shows Moss, shot by Solve Sundsbo, with her long hair styled by her friend Luigi Murenu, artistic director of the new range.
With her mix of high-low style, Moss fronts for beauty brands ranging from Dior to Rimmel, but surprisingly hasn't been associated with premium hair care before, despite a string of high-profile brand ambassadorships in her 20-year-plus career.
The hook-up was announced the same day Miranda Kerr was in Auckland for a gig fronting for supermarket line Clear Scalp & Hair Beauty Therapy.
Australian supermodel Kerr recently followed in the footsteps of Moss in modelling for Spanish fashion chain Mango.
Breath of Fresh Hair
New Zealand skincare company Trilogy has launched a range of shampoos and conditioners.
These take the same natural approach as the company's skincare, drawing on botanicals, including Trilogy's cornerstone's rosehip extract, which is added for its conditioning qualities.
The key ingredient in cleansing duos to both Refresh & Shine and Smooth & Nourish hair is an antioxidant- and protein-rich active called keracyn, derived from globe artichoke leaves and said to strengthen and protect the hair shaft.
The freshly fragrant products are $24.90 each from selected department stores, pharmacies and health stores.
- VIVA