Angela Casley creates delicious canapes for a stress-free summer soiree.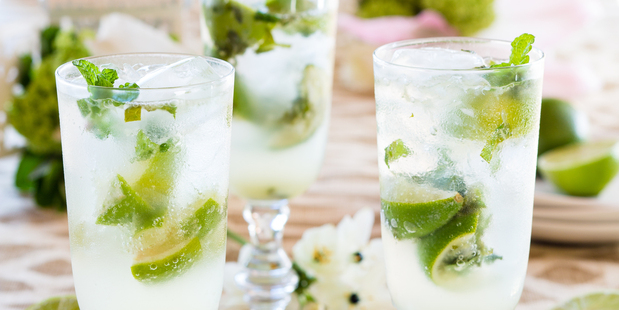 Right now I'm getting in the party mood. Everyone is in good spirits with the warmer weather, longer days and the wonderful knowledge that summer holidays are just around the corner. Seize the moment - and the mood - and organise your own soiree now, before the festive season gets too hectic.
Whether it's a small gathering or a big group, the food doesn't have to be elaborate or complicated. Keep to simple, delicious ideas such as today's recipes, made from fresh ingredients and served with a creative touch. That way, you don't have to be rushing around the kitchen instead of mingling with your guests.
At this time of year mojitos come into their own. Mint is prolific in the garden, so this is a great way to use it. Have all the ingredients ready to mix when your first guests arrive. Make a large jug so service can be quick and slick.
Quick and simple, the salmon pate can be pre-made and will easily last in the fridge for up to two weeks (which makes it a winner when unexpected guests call by).
Add a sprig of dill on the top.
Crostini are a great way to use up leftover french bread. Simply brush with olive oil and toast in an oven heated to 180C for 10 minutes. Another way to serve the pate is to spread it over a pancake, add a handful of rocket, roll up and slice into rounds before serving.
Today's scrummy venison tart cases can also be made in advance. A handy hint when baking pastry: place a second tin on top of the first to stop the pastry from rising. These tarts are fabulous to have in an airtight container ready to fill for a quick nibble.
Try a little sour cream and onion marmalade or tomato, olive and mozzarella grilled for a couple of minutes. If venison is not available use eye fillet cooked rare. The sweetness of the cranberry is a delight, and a little bunch of micro greens on the top make for a colourful finish.
Glossy eggplants in the supermarket caught my eye recently, as did vibrant peppers. So, with fresh greens, such as courgettes and basil, you can create tasty vegetable pinwheels.
As an alternative, serve these roasted vegetables as a starter. Simply layer the vegetables in a small cake tin lined with plastic wrap, refrigerate overnight, then slice into wedges and serve with a small salad.


Recipes:
• Mojitos
• Vegetable pinwheels
• Venison tarts
• Quick salmon pate


- VIVA


For the good things in life on the go, download the Viva iPad app, free now at appstore.com/vivamagazinenz.