Salad days are here, says Angela Casley, thanks to spring's abundance of tasty, fresh ingredients.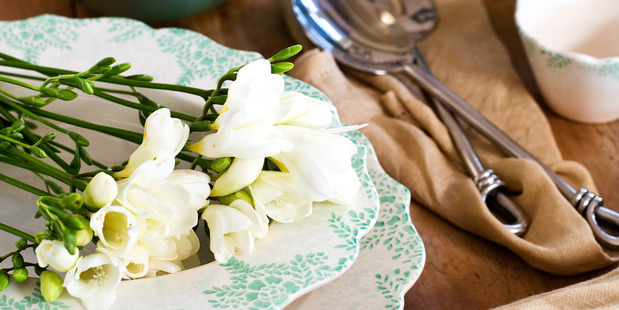 Spring is well and truly here. The mornings are light and the winds are warming up. The simple, fresh flavours and colours of spring are inspiring.
Time to get the barbecue out of the shed, and wow guests with these three tasty salads with lots of crunch. Serve with fine wine and good company - and hope the sun shines long enough for you to sit outside for an enjoyable lunch.
More and more fruit and vegetables are available year-round, which does take the anticipation and longing away. The season for asparagus, however, is short, so make the most of this perfect vegetable, which goes well with all meals. Put the asparagus in boiling water for three minutes then plunge it into cold water to stop the cooking process and ensure the crunch is not lost. Eat the asparagus hot, dip into hollandaise or just drizzle with hot butter with lemon juice and plenty of freshly ground pepper.
New Zealand oranges are at their prime, sweet and tasty. Now is the time to eat them in abundance. I have combined oranges with a refreshing green olive relish, pan-fried fish and fresh herbs to create a taste sensation.
Add some buttery new potatoes if you are feeding a crowd. The relish can be made in advance.Try a dollop on crostini with a slice of tomato.
Gluten-free quinoa, an excellent source of protein, is now available at most supermarkets, so if you haven't tried it, now is a great time with this salad. Like rice and couscous it is easy to cook, can be prepared earlier and left to sit until you are ready. This tahini and greek yoghurt dressing with a hint of honey is yummy.
Tahini is a great staple to have in the fridge for dressings, hummus, falafel or to add to a smoothie. The chickpeas combine nicely to add crunch.
This prawn salad captures the colours of spring. The prawns are so much nicer if you buy them raw and cook them yourself. It's a simple process, just plunge into simmering water for three or four minutes until they turn pink. When cool, remove the tails and toss with the other ingredients. The feta adds a creamy texture, great with the crunch of the prawns and broad beans.
Removing the broad beans from their pods is a tedious job, so get some help from the family. Enjoy the wonders of our ever-changing seasons!


Recipes:
• Quinoa, Chickpea and Chargrilled Vegetables
• Prawn, Broad Bean, Feta and Fresh Herbs
• Pan-fried Fish, Asparagus and Pine nuts with Green Olive Relish
- VIVA