Michal McKay celebrates the importance of being well-grounded when it comes to stylish shoes.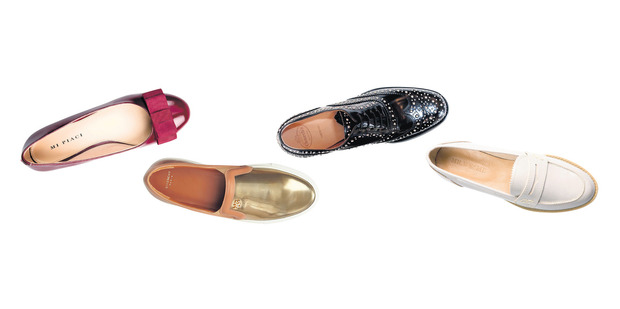 Anyone who has an inkling of a fashion gene will agree that footwear features high on the "must" list. It's also largely responsible for the credit-card deficit in many a follower's bank balance. So how is it, we ask in a bemused state, that something so functional can become an object of such unbridled yearning? Lust? Worship even?
The Chinese - a remarkably canny race in many areas, style being among them - certainly hit the nail on the toe when they recognised that the foot holds a mesmerising sex appeal all of its own. Way back about the 10th century in imperial times, men were entranced by the female version, finding them both enticing to tame and enchanting to toy with; escalating to a bizarre zenith with the introduction of the rather questionable practice of foot binding.
The tinier the phalange, the better to fondle. It took the earthly based tenets of The Revolution to bring to light that a small paw wasn't all that practical when it came to footing it in the fields. And fortunately the practice was abandoned.
Whatever the size, let's face it, finding the right shoe is a libido liberator. In addition to heel height, which can turn a fine ankle (and head), the sex appeal of a shoe shape depends a lot on how much it reveals or conceals in the way of "cleavage" rather subtly superseding that other part of the female anatomy normally associated with the word.
The strategic line where the toes join the foot is equally seductive to both genders for varying reasons. For us women, the right expose in a shoe can be akin to finding the perfect man; the bonus being you can do it over and over again!
If I were a shoe, I'd be a ballerina (and that's not only because I'm a closet dancer; comfort has a lot to do with it). So I say "praise be" for the fact that fashion moves in cycles. Finally, feet - which have been tottering at breathtaking altitudes, more often than not on platforms and heels for which the word "clunky" is grossly inadequate and for far too many seasons to boot - are touching ground again.
Now I know as well as the next person, a high heel oozes sex appeal when crafted by a master. Take Manolo Blahnik. He doesn't have customers; he has acolytes. And he is the undisputed leader when it comes to encouraging foot fantasy and fetish. Feet are his forte: his grasp on what makes a shoe sexy is unprecedented.
But I defy anyone to show me a shape he has created that has studded leather laced up the ankle alarmingly reminiscent of a gladiator, 3-inch stocky platforms or stout 6-inch heels with - save me - bare toes and heels. No, his provocative designs, which are known to make women weep with desire, are sex personified - all slender stilettos, bare arches, titillating toe cleavage and a truckload of elegance.
I'm an experienced shoe junkie. Not quite in the Imelda stakes, mind, but close. In past decades there has been a certain reluctance to let even my best friends observe the line-up of boxes - not only for the bevy of designer labels they boasted (hence my acute understanding of busting bank balances and an affinity with credit card chaos), but also for the fact that even a fevered fashionista could not possibly get her feet in and out of that many pairs in a month.
Each shelf was labelled distinctly and catalogued into Day/Night/Summer/Winter/Sports/Casual/ Formal and then subsequently sub-edited into colour categories. More recently, sense has prevailed - plus purchasing prudence. I gave up on high heels some time back because of a damaged achilles tendon and, with a realistic edit to allow for fashion's whims, I have pursued practicality with purpose. The resulting wardrobe now gets me where I am going at a good pace, without mishap, and still stylishly.
The beautiful ballerina has been my backup. Luckily there is always a way around the most unrealistic of fashionable trends, and ballerinas have been taking a strong stride down many a catwalk when those towering platforms and gladiator lacings just couldn't make the cut. As you'll no doubt gather, that fad was a foot fault to me. Even the advent of the "flatform" - supposedly a practical alternative to putting on a 6-inch precipitously platformed heel, didn't do much to dispel the unfathomable craving to put our poor feet through such tottering torture.
Rather it was simply a flatfooted way to climb the heights. And possibly the ugliest look any self-respecting designer could have come up with. Even with the endorsement of Mr Lagerfeld and the Prada clan - despite the claps for introducing elevation without the pain - flatforms pioneered a whole new approach to treading the floor that was in my book downright dowdy. A look, in fact, that should never have been allowed to put a foot in the fashion door.
So now the mighty shoe scene has fallen; right down to the ground. Flat shoes are fashion's new friends. Loafers, plimsolls, ballet slippers and the brilliant brogue are adding a surprising freshness to style. Their ability to add a left-field dress-up-or-down factor to an outfit has cast a whole new focus on fashion.
Sneakers with a tailored pantsuit add a playful touch to an otherwise serious city mogul's suit; spiffy loafers counteract a demurely cut dress; satin ballerinas beneath a beautiful ball dress - how stunning is that? The flat shoe is the ultimate accessory.
But beware - it's addictive.
Walk this way: Pretty Ballerina, Kathryn Wilson, Isabella Anselmi and Repetto. Runway, Scarpa, Overland, Mi Piaci and Briarwood are where to find them.


- VIVA