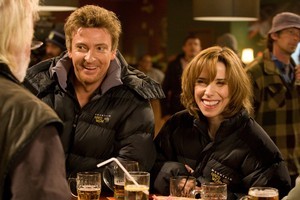 Valentine's Day was last week but this is the week to get romantic at the movies as two Kiwi films are set to send hearts aflutter.
Rhys Darby's highly-anticipated new romantic comedy Love Birds, is out today, as is a self-funded local rom-com called Curry Munchers.
Event Cinemas stepped in to support the release of this latter, a film about Indian immigrants, having only seen a rough cut. It is released in seven New Zealand cinemas today and in two cinemas in Fiji this week.
Milt Barlow, the chief executive of Incubate, which is distributing the film says "I just thought it was magic. There was just something about it that made me think it was a delightful movie".
He says that though it is a Kiwi-Indian film, it has a story that resonates with people from all communities.
"The general consensus is that people walk away going 'what a cute little picture'."
The film has attracted interest from markets such as Singapore, Dubai, South Africa and America, he says.
Jane Hastings, general manager at Event Cinemas, says, "While we eat, sleep and breathe all movies, there is nothing better than supporting New Zealand-produced content."
Curry Munchers stars local comedians Tarun Mohanbhai and Rajeev Varma as well as Ben Mitchell (T.K. from Shortland Street).
Barlow says it seems to be a coincidence that the film shares the same release date as Love Birds and hopes people see them not as Kiwi films but as good films in their own right.
Meanwhile, Love Birds, directed by Paul Murphy of Second Hand Wedding, stars Golden Globe-winning British actress Sally Hawkins and Flight of the Conchords' Rhys Darby. Elizabeth Trotman, general manager of Hoyts Distribution, says the company has high expectations for Love Birds because it's a quality picture.
"It's rare for romantic comedies to be made in New Zealand, especially with actors of this talent," she says.
They are confident about their marketing campaign, which involved preview screenings on Valentine's Day, and think word of mouth will work in their favour. The film has been sold in more than 30 countries including the key markets of Britain, Germany and Australia.
Darby is tipped as New Zealand's answer to Hugh Grant and though Trotman says he has not been deliberately marketed as such, she thinks members of the audience will think "he's a bit of all right". She thinks people will enjoy seeing Darby in a role quite different to those for which he is best known.
"He delivers a fantastic performance and he is looking very handsome."
Love Birds' target audience is the 18-35 bracket with a female skew but Trotman thinks Darby may also draw his blokey fans to the cinema. She says a soundtrack album is unlikely because so much of the music is Queen though the fact the band allowed a New Zealand film to use their music was rather "phenomenal".
-TimeOut