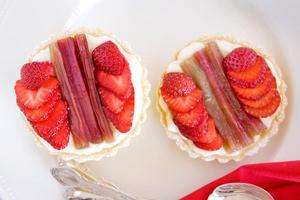 Serves 2
Pastry
120g plain flour
80g butter, chilled
pinch salt
Iced water with a squeeze of lemon
- approximately 1 ½ Tbs
1 egg white
Custard
½ cup milk
½ cup cream
½ a vanilla bean
3 egg yolks
2 stalks rhubarb
cup caster sugar
1 Tbs caster sugar
½ cup white wine
1 tsp orange zest
Strawberries
Icing sugar
1 Grease 2 x 12cm loose-bottomed tartlet tins. Make pastry by putting the flour in the bowl of a food processor. Cube the butter and add with the salt then pulse until the mixture resembles breadcrumbs. Slowly dribble in just enough water for the mixture to begin to hold together then stop. Tip out on to a bench and gather together to form a ball then wrap in plastic wrap and chill for 30 minutes.
2 Preheat oven to 200C. Roll the pastry and line the tins. Bake blind for 10 minutes then remove the foil and weights, brush with lightly beaten egg white and return to the oven for a further 5 minutes or until golden.
3 To make the custard; pour the milk and cream into a heavy based saucepan. Scrape the seeds from the vanilla bean and add. Bring to a simmering point while whisking the yolks and sugar until foamy. Whisk the warm milk and cream into the eggs.
4 Return the mixture to the clean saucepan and cook over a moderate heat for at least 10 minutes, stirring constantly with a wooden spoon until the mixture is thick enough to coat the back of the spoon. Strain into a bowl and keep covered until ready to use.
5 Poach the rhubarb by firstly cutting into lengths to fit the tins. If the rhubarb stalks are large, slice lengthwise first. Bring the sugar, wine and zest to a simmer, stirring to dissolve the sugar then add the rhubarb and simmer very gently for 3 minutes or until just cooked. Leave the rhubarb to cool in the liquid.
6 Assemble the tarts by filling with custard then lay on rows of rhubarb and sliced strawberries. Dust with icing sugar. The poaching liquid can be reduced and served alongside.