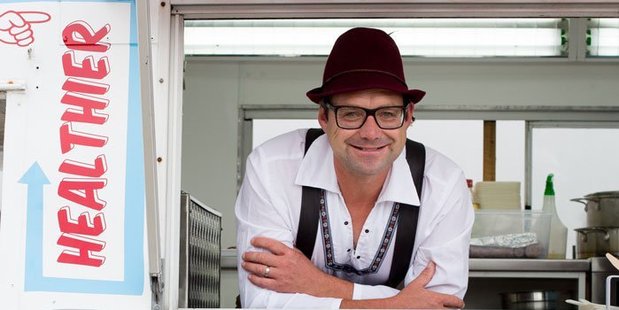 You could call it being a glutton for punishment. Or just wanting to have something to watch, in winter, that isn't utter trash. And actually, I rather like a bit of utter trash, in winter, or at least I don't mind stuff to watch that won't tax the hibernating brain. So I gave in and watched some more food telly despite having sworn off it just three weeks ago.
Well, the reality is that I like food and, you never know, food telly might just offer an idea or two about what to cook for tea.
The Food Truck (TV1, Sundays, 8pm) is a show about a chap who drives around in a truck, making then selling food. This is a quirky sort of idea; it is a posh sort of food truck - at least it sells posh food.
Has anyone ever thought of making a reality food TV show about the White Lady? No, I suppose drunks eating burgers at 1am wouldn't be very attractive an idea and it would all be rather samey. Still, there would no doubt be "characters".
Characters are much-loved by New Zealand documentary-makers (and, no doubt, documentary-makers the world over). But why do chefs also have to be characters? I blame Hudson and Halls.
The chap who drives around in his truck is chef Michael Van de Elzen. They should have called it The Food Van, but that would be a very bad joke now, wouldn't it? Yes. I'm amazed they resisted. Here is a selection of jokes from last week's episode. On a miso, eggplant pickle: "Me so hungry." On talking to customers buying his yakitori salmon: "Michael's loving the yakking as much as his customers are loving his yakitori."
On bento-boxed food: "In New Zealand, if your food comes in a boxed tray, you're probably in prison; in Japan it's dining out, bento-style." Is that last one actually a joke? I have no idea. It's certainly very silly.
Chef Michael is a character. We know this because he pulls funny faces and wears faintly kooky specs. I don't mind this show. The food seems interesting but I'm not sure why it seems to attempt to be a cartoon. Maybe it's for kids and if it gets them into the kitchen, why not make it cartoonish?
On TV1 on Saturdays at 8pm is Dishing Up Australia with Al Brown, who, as the title suggests, goes to Australia and eats stuff and cooks stuff and talks to characters. He went to Tasmania last week and did all of that. He's an amiable, enthusiastic chap who knows how to create a great food joint - as anyone who has been to Depot knows.
But is he telly talent? "I know you always hear me saying 'this is amazing' - but it is," he said of some sea trout. Tasmania was "very, very unique" and "very, very special". You could have gleaned that from a travel brochure, but this is gentle stuff - as is The Food Truck. They might not be my cup of tea, but they are so much more likeable than those ghastly food-as-competition, chefs-as-tough-guys shows that you can forgive the odd groaner - and chefs who think they have to be characters.
Replays of Hudson and Halls anyone? I probably would watch that but I've already proved my appetite for punishment.