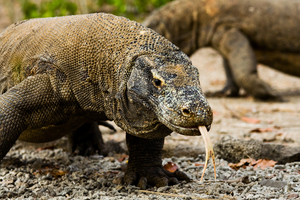 I'm thinking of going to Bali next year. I would like to see the Komodo dragons. What's the best way to get to see them from Bali? - Mary Wallace
Lonely Planet's Sarah Bennett & Lee Slater write:
The parched and desolate but beautiful islands of Komodo and Rinca are sandwiched between the Sumbawa and Flores islands of the Indonesian archipelago. They rise from ocean waters churning with whirlpools and are patrolled by lizard royalty, the Komodo dragon. The world's largest lizard, known locally as ora, they can reach over 3m in length, weigh up to 100kg and feed on animals as large as deer and buffalo.
Komodo National Park encompasses Komodo and Rinca and several neighbouring isles. Issued on arrival, a three-day visitor permit (about $9) includes entry to the park, a conservation fee, and a guided dragon-spotting trek. For an hour-long trek on Rinca you'll pay an extra $6 or so. The hiking is superb on Komodo; expect to pay $6 to $30 for guided treks there.
The most accessible place to see the mighty lizards on Komodo is at the dry riverbed Banu Nggulung, where they lurk year-round. It's only a half-hour stroll from Loh Liang so most tourists seldom venture further afield. Big mistake. Far more rewarding is a guided hike (9km, five hours) on the island's northeastern flank. It begins in the primordial Poreng Valley then passes over the 1835-feet peak of Bukit Randolph before descending towards the marsh at Loh Sebita, where a boat will pick you up. Not only are you likely to track down a couple of dragons but quite possibly wild water buffalo, deer and boar.
The only way to Komodo and Rinca is by boat tour or charter, and your best jumping-off point is Labuan Bajo on Flores, a gorgeous ramshackle harbour freckled with islands and blessed with surrealist sunsets. Consider holing up there for a couple of days in one of the sweet beach bungalows close to shore. Getting to Labuan Bajo is quick and easy on one of the daily flights from Bali's Denpasar airport (lionair.co.id, merpati.co.id).
Live-aboard boat tours from Labuan Bajo cost from about $300 a person a night including meals, landings and snorkelling gear. However, if you can muster a group together, chartering a boat may be cheaper and more flexible. You can book through hotels or agents in town but you could also deal directly with the captains at the harbour. This will allow you to size up the boat and check that it has a radio and lifejackets.
Can you suggest any cycling routes in the Cotswolds, please? - John
Lonely Planet's Sarah Bennett & Lee Slater write:
Northwest of London, the Cotswolds are a designated Area of Outstanding Natural Beauty, covering almost 2000sq km across six counties. Gentle gradients, bucolic vistas and a network of quiet country lanes make the region ideal for cycling. Six maps, available from the Cotswold District Council, detail safe and circular routes linking medieval towns, villages and attractions along the way. Route 1, a 48km ride from the unspoiled gem of Chipping Campden, takes in valleys and woodland, with plenty of opportunities for pub lunches.
Route 6 starts at Kemble Station in Gloucestershire before rolling across the border on to the Wiltshire Cycleway and through the village of Sheraton close to the National Arboretum of Westonbirt. Pick up some provisions around the halfway point in the regal market town of Tetbury. Prince Charles has a shop there selling Highgrove goodies, although it's unlikely he'll be behind the counter.
Cotswold Country Cycles, based in Chipping Campden, offers three- to seven-day self-guided tours throughout the region. It handles accommodation bookings, baggage transfers and bike rental.
Mountain bikers can cycle the many kilometres of bridleways and byways in the Cotswolds and Chilterns. In the west of the region, the Forest of Dean has numerous dirt-track options and dedicated mountain-bike trails. Cotswolds Mountain Biking by Tom Fenton has 20 classic rides ranging from short, free-wheeling routes through to an epic 77km gutbuster.
WIN A LONELY PLANET GUIDEBOOK
Email your questions to travel.info@lonelyplanet.com and they'll be answered by Lonely Planet's experts.
In addition, the best question each week will earn a Lonely Planet guidebook. Add your postal address and the guidebook you'd like (see lonelyplanet.com).
Not all questions are answered and Lonely Planet cannot correspond directly with readers.