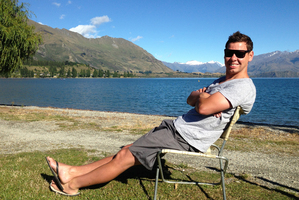 What was your greatest holiday?
A couple of months backpacking through India back in the day. Every minute was an adventure, and looking back, even the monkey attack at Agra train station seems like fun now.
And the worst?
No such thing as a bad holiday, but anything ruined by weather obviously sucks. That's becoming a regular issue - I'm sure I'm not the only Kiwi concerned at the way MetService updates are dominating the annual break. Maybe weather reports should be banned so we can all just focus on other stuff.
If we bump into you on holiday, what are you most likely to be doing?
Taking it pretty easy with family and friends. A bit of swimming, a barbecue or two. I tend to leave all the real adventurous stuff to other people.
What's your dream destination?
I'm not fussy these days - a politician-free zone is all I ask for. Anywhere will do, as long as they aren't there. I'm sure the feeling is mutual. Therefore, my holiday right now in Central Otago is right up there with the best ever.
What's the dumbest thing you've ever done when travelling?
In my younger days, deciding to run across across some railway tracks in Munich to beat a train in a rush to get to Oktoberfest. Hadn't really seen a bullet train up so close before. Don't really want to see one up so close ever again! The subsequent "celebration of life" hangover was memorable, too. The "no sunblock" day at Pauanui one time is another shocker, sadly repeated years later in Goa. "Accidentally" eating whale in Norway is another regret.
What will you always have in your hand luggage?
I'm not a gadget or iThingy person, so a book is key for long flights. My concentration span isn't good at the best of times, so it's got to be a page-turner or some short stories.
Complete this sentence: I can't travel without ... panicking over meaningless things before leaving. Either that or being too casual and forgetting important stuff.
What's the best thing you've brought back from a trip?
I'm not really a souvenir kind of guy, I usually end up bringing rubbish home. Like when I got back from covering the US elections with a hand-painted "Moms for Mitt" sign found on the ground at a Mitt Romney rally. It still has dirt on it - it really is rubbish.
Favourite airport to land at?
Wellington - home base. All the white-knuckle landings I've had due to cloud and wind means I'm often truly relieved just to have touched down safely.
What's the next trip you've got planned?
Something to do with work, unfortunately, now that the summer break is nearly over, unless I sneak in a quick trip up to see the whanau in the 'Naki - always have a great holiday up there.
* Patrick Gower is political editor for TV3