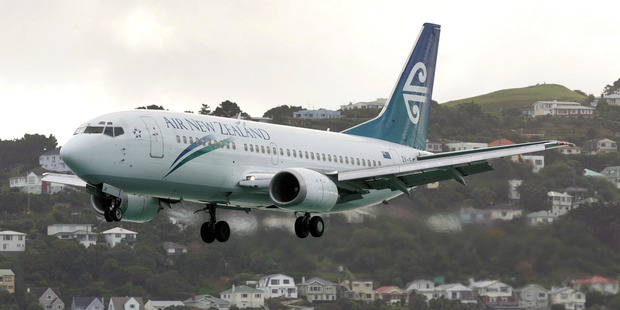 Seat-only fares will soon be available to Air New Zealand's domestic passengers right up until the last minute.
The new scheme, which starts at the end of July, could result in savings of up to $50 for travellers who have no other option but to buy the most expensive type of ticket.
At the moment, customers have to buy a fare from the selection of available ticket types for a flight.
The cheapest tickets, which include a plane seat and one piece of carry-on luggage, often run out the fastest - meaning those who haven't booked have to buy the more expensive fares even if they don't have luggage which needs to be checked in or require a changeable ticket.
Under the new scheme, the airline will offer a discounted price for passengers wanting only a "seat" if the basic fares have already sold out.
Cameron Wallace, Air NZ's chief sales and commercial officer, said the new fares offered more flexibility.
"There's a significant benefit for customers who are booking at the last minute," he said. "As an example, if you are booking tonight for a flight tomorrow morning at 7am, potentially you'd be forced into buying a fare on that flight which might be $200, it might be $300.
"That fare may represent more features and benefits than you want to pay for, but because it's the only seat left on the plane you'd be forced in effect to buy that fare."
The new scheme would allow a passenger to buy just a basic fare, which included only a seat, potentially saving them $50, he said.
As well as those who travel often for work, the scheme could also be useful to travellers needing to travel at short notice, such as for a funeral.
House of Travel commercial director Brent Thomas said the fares offered more choice. "It can have a significant advantage for those who book closer to the departure time, often that is the business traveller who ... often needs only the seat."
Phil Boeyen of rival JetStar said its cheapest domestic "starter fares" were always available unless a flight was fully booked. "We're very happy to have shaken things up since our entry into the domestic market."
Flying options
Under Air New Zealand's new fare scheme, the following ticket options will always be available.
Seat: includes a 7kg carry-on bag. $50 less than the most expensive fare available on the flight.
Seat & bag: Includes one piece of 23kg luggage. Seat fare + $10.
Flexitime: Customers can change their flight on the day to an earlier or later one for no charge. Seat & bag + $20.
Flexiplus: Fully flexible and refundable fare. Traveller can change the day, time, destination or origin of their flight without incurring a fee, but they may have to pay the difference in fare costs. Flexitime + $20.