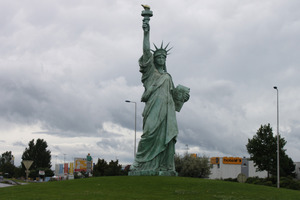 She is arguably the most recognisable statue in the world.
Standing pride of place in New York Harbour, she has greeted immigrants, visitors, the lost and the lonely, the "poor, the tired, the huddled masses" since the late nineteenth century.
She has weathered storms, close encounters with aircraft and, probably, her share of critics.
So what on earth is she doing in the middle of a roundabout in a town in northeastern France?
And not even an intersection in the centre of Colmar (or Kolmar, if you are of Germanic persuasion). No, she's at the heart of a light industrial area north of the town.
The explanation is quite simple. Colmar is the birthplace of Frederic Auguste Bartholdi, the sculptor who designed the original statue.
In 2004, the town fathers deemed it appropriate to commemorate the 100th anniversary of Bartholdi's death by erecting the 12m resin replica. It is true to the form of her better known sister but so it should be; the Bartholdi Museum in Colmar contains numerous models of various sizes made by Bartholdi during the process of designing the statue.
The architecture of Colmar explains why the statue is not in the centre of the town. Such a Jenny-come-lately would be out of place in the midst of the well-preserved buildings of the old town.
Because of the town's location, away from larger population centres, a number of the buildings survived the French Revolution - as well as both world wars - intact. Narrow canals cross what is now called 'Little Venice', and baroque and Gothic buildings, of both French and German influence, abound. It's a very beautiful place.
Colmar, along with the rest of the province of Alsace, has an interesting parentage. Annexed by the newly-formed German Empire in 1871 and incorporated into the Alsace-Lorraine Province, it was returned to France after World War I under the Treaty of Versailles, was annexed by Nazi Germany in 1940, and reverted finally to French control in 1945, whence it has remained.
The Statue of Liberty was a gift from the French nation to the American people, and was dedicated in 1886. And Colmar is not the only town or city rejoicing in her beauty.
Replicas can be seen in many parts of France, which is understandable, but also as far afield as Kosovo, Ukraine, Mexico, Israel, Taiwan and Vietnam.
Liberty Enlightening the World, to give her her proper title, is a thoroughly laudable sentiment. But on a roundabout in Colmar?
C'est incroyable. Mais c'est magnifique.
- nzherald.co.nz