Brett Atkinson finds plenty to keep him busy in the city that gave us the world's first farmers' market.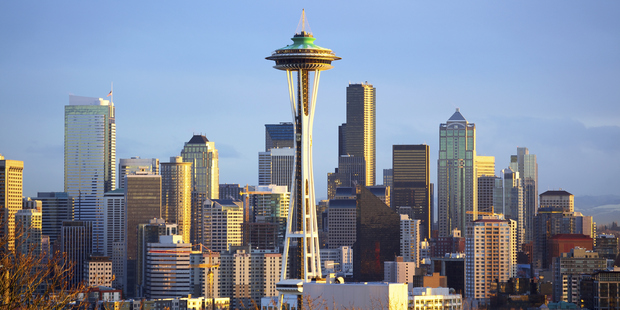 It's a scenario common to New Zealand travellers transiting through Seattle on cruise ships to Alaska. How best to spend a day in the city that has given us Boeing, Starbucks, grunge music and the world's first farmers' market?
Seattle's Pike Place Market began over a century ago in 1907 when rising food prices drove city burghers to allow local farmers to sell their produce direct to the public.
Suburban sprawl and the growth of supermarkets led to the market's decline in importance, but following its restoration in the 1970s, it is now one of the city's biggest attractions.
On a warm Saturday morning, the market is packed with locals and tourists. I equip myself with a takeaway espresso and bagel, confident there will be opportunities to further top up with fresh doughnuts, gourmet hot dogs, or cherries and strawberries.
From Friday to Sunday, the market also expands outside to include many local and sustainable producers and, on this weekend, Seattle locals are cooling down with peach granitas, new-season nectarines and berry smoothies.
Specialty truffle stores and wine bars sit next to juice stands and Mexican street food, and the flavours of the world are crammed into a few blocks.
There's always a touristy throng around the market's theatrical fishmongers, but beyond the occasional sleek salmon being tossed nonchalantly through the air, there's lots more to take in. An elderly man jives gently to a bluegrass trio called The Tallboys, their sweet country harmonies wafting over boisterous cheers as yet another slippery salmon takes flight.
With an audience including dreadlocked and tattooed teens and a wide-eyed Amish family, Emery Carl belts out rock'n'roll and soul standards, simultaneously playing his guitar behind his back, and working a zebra-striped hula hoop. It's an impressive performance, but falls short of the teeth-playing theatrics of fellow Seattle alumni, Jimi Hendrix. Another bearded hipster muso is performing outside the original Starbuck's store, but I bypass the 200m queue and return to the market to explore its lower levels.
Modern Seattle is driven by 21st-century tech giants like Microsoft and Amazon but a couple of retail gems in Pike Place's labyrinthine basement celebrate a simpler America.
Crammed with boxes of carefully curated old newspapers - some headlined by iconic events like 1969's Apollo 11 moon landing - big-format Life magazines, and classic music, sports and political posters, Old Seattle Paperworks is a shop to get wonderfully lost in. I surface after about 30 minutes and continue on to nearby Holy Cow Records, a tiny store crammed with vinyl and vintage rock posters.

Holy Cow is definitely a candidate for the planet's most perfectly crowded and overstocked record shop, and after another 30 minutes negotiating the improbably small spaces between the ceiling-high racks of albums - carefully breathing in to segue from "Rockabilly" to "Reggae" - I emerge into Seattle sunlight and move on to another musical labour of love on a much larger scale.
A legacy of the 1962 World's Fair, the Seattle monorail travels on an elevated track from the nearby Westlake Center to the Seattle Center. With curvy chrome styling, it evokes both The Jetsons and Bladerunner, recalling an earlier generation when it was only a matter of time before we all piloted flying cars around space-age cities. Just before the monrail's terminus, the soaringly elegant Space Needle comes into view, also built in 1962, and still managing to be both retro and futuristic five decades on. As the monorail slows to its destination, it enters another building, this one shimmering and startling with bold curves, but definitely only channelling a futuristic vibe.
Designed by Frank Gehry, the EMP (Experience Music Project) Museum was founded by Microsoft co-founder Paul Allen in 2000. It was orginally planned to only focus on Allen's passion for the music of Jimi Hendrix but has now expanded to include Nirvana and the Pacific Northwest grunge scene, and other music-themed exhibitions definitely only possible with the financial clout of a mega-rich software entrepreneur.
Gehry's bold design vision is also maintained inside the sleek exterior sheathed in 21,000 stainless steel and aluminum shingles. Roots and Branches is a centrepiece sculpture soaring to 35m with its collage of guitars, keyboards and other musical instruments.
EMP's Sky Church - a nod to Hendrix's ethos of "electric church music" - is a massive concert venue featuring one of the world's biggest TV screens, and interactive options include spoken word testimonies from punk's most influential names and 12 mini studios where wannabe rockers and rappers can emerge with a CD of their ad-hoc creativity.
Beyond the whizzbang theatrics of the EMP Museum's interactive attractions, the personal aspects of the exhibitions are most poignant. Rudimentary cassette tapes, fanzines and setlists from Nirvana combine with iconic items of clothing like Hendrix's ostentatious 1960s Elizabethan jackets. A special Women Who Rock exhibition features a wardrobe of iconic attire, including videos and album covers from The Ronettes through to Madonna and Lady Gaga.
A labyrinth of staircases and elevators leads from EMP's musical exhibitions to more evidence that Microsoft's Paul Allen is the planet's ultimate, well-heeled fan boy.
Featuring a Dalek from Dr Who and Captain Kirk's boxy command chair from the original series of Star Trek, the Icons of Science Fiction gallery is also compelling for a travelling Kiwi sci-fi fan of considerably less net worth.
In Can't Look Away, an homage to horror flicks, interactive installations include the "Scream Booth". Horror classics are screened inside a soundproof pod and viewers scream on cue. Outside the booth, the real entertainment is seeing photos of the screamers within.
A slyly secret door leads to the Worlds of Myth & Magic gallery presenting memories and memorabilia from The Wizard of Oz and The Hobbit to Xena: Warrior Princess. Just a few days after experiencing the supercharged authentic wilderness of Alaska, it's a telling reminder that amazing alternative worlds can also be generated by limitless human imagination.
IF YOU GO
Getting there: Air New Zealand flies to Vancouver and San Francisco with regular connections to Seattle.
Where to stay: Fairmont Olympic Hotel is one of Seattle's most gracious and historic hotels.
Where to eat: Steelhead Diner is eclectic and bustling and features excellent seafood and local Washington wines.
Where to drink: Pike Pub and Brewery has 13 different craft beers brewed onsite.
Places to visit: Pike Place Market and The EMP Museum.
Further information: See DiscoverAmerica.com for more on visiting Seattle.
Brett Atkinson visited Seattle with the assistance of the Fairmont Olympic Hotel.