Rod Pascoe encounters attractions on board a cruise ship as well as on the horizon.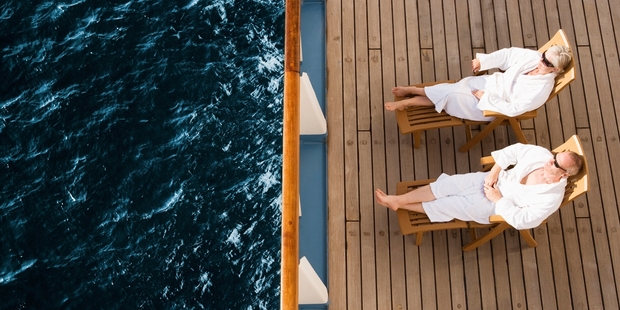 One of the great pleasures of a cruise ship journey is the ample opportunity for people watching. After cruising on the Celebrity Solstice for 14 days, some folk remain stuck in my memory.
The Lovers
They stood out from day one. He was tall, very blond, exceedingly good looking and couldn't have been more than 22 or 23. She was stylish, though not in a head-turning way, and probably 10 to 15 years older. They were too physically close to be brother and sister or mother and son. For the first few days, they were never apart. But, as the cruise went on, they spent less and less time together. A lovers' tiff, perhaps? At breakfast on the last day, she ate alone.
The Squealer
She first caught my eye in Akaroa, laughing hysterically as she got into the sidecar of a motorbike for hire at the wharf and screeching in a high-pitched American voice that she'd never done anything like this before. Her crazed eyes made me wonder if her obvious delight was pharmaceutically induced.
God, if that happiness was natural, I envy her!
The Happy Campers (Not)
They had the cabin next to ours. On the first night, they had a long, loud, nasty row. Surely they didn't think they couldn't be heard. I asked the cabin attendant to try to make them happy. I don't think this couple did "happy". In public, they maintained a semblance of civility. But behind closed doors, the arguing continued, with banging of drawers and stomping of feet. On the last day, they woke me at 5.22am. I do hope they can find peace - or never get a cabin next to mine again.
The Retired Miracle Man
He was the finance minister who transformed his nation's economy, but he isn't easy to spot these days because he's aged markedly. When I saw him in the Sky Observation lounge he was reading what looked to be a weighty work of non-fiction. More economics, perhaps? Yet another return to Parliament in the wind? Probably not. He'd have to stay out of the casino if he became an MP again. Wouldn't look good, that.
The Lovely Old Ockers
She was a sweetie. In her 80s, I'd guess. Australian. Eyeing a necklace of opals in the window of an on-board store. Thirty per cent off, the sign proclaimed. "I'd love them, Alfred," she told her hubby. He chuckled, winked at me and pretended not to hear. I told her she'd probably have more luck if she said instead, "I love you, Alfred." I hope they have many more years - and cruises - together.
The Rude Late-comers
Where do people get off thinking they can turn up 20 to 30 minutes late for a performance or a lecture and head for seats up front? It happened all the time on the Solstice. Astonishing! US naturalist Milos Radakovich taught one such group a lesson in manners. As they moved along the front row, he stopped his lecture and said as they sat down: "Hard to find parking out there, was it?" What a crack-up!
The Gossip Columnist
He's instantly recognisable in New Zealand, with his immaculately coiffed silver mane and trademark bow tie, but travelling on a ship full of Australians and Americans probably offered him a degree of anonymity and freedom from constant "I know you from somewhere" interruptions. Whenever I saw him, he was with his Thai partner and friends - I called them his "retinue" - and was almost as enthusiastic as a Japanese tourist in photographing everything, using his iPad. (It seemed like half of all the people on board had iPads.) And his daily change of colourful shirts made me wonder if he'd bought a bulk lot from Nelson Mandela's estate.
The Art Couple
They sat in the front row of the art auctions, two young men supping on free champagne and keeping an eye out for a bargain. They were nobody's fools. They were keen on a painting by an American called Peter Maz, but one told me later they wouldn't bid until they'd researched on the internet what his pieces had been selling for. With the on-board satellite link to the worldwide web costing 85c a minute, they were waiting for the ship to arrive at its next port to go online. I admired their savviness.
The Lonely Arizonan
She was another who caught my eye at the art auctions. Short and cuddly, in her 70s if not older, and always on her own. She took my breath away when she paid several thousand dollars for a bronze sculpture of a fox by a Colombian called Nano Lopez. Outside, she admitted to me that she didn't know much about art, but thought the fox was cute. $2425 for "cute"! Two days later, I spotted the fox displayed for sale again. I asked the staff why. Lopez had cast 420 of them.
The Chinese Warrior
Of all the blokes who rushed or were dragged onstage to learn the haka during the performance by the Tauranga group Te Ao Turoa, he was the one who stood out. Maybe it was because he was the only Asian, but truth be told he was also the most enthusiastic. He wasn't fazed by the presence of a thousand eyes. His wild stomps, bulging eyes and exaggerated tongue pokes were a hoot. Days later, in the ship's towering atrium, I asked him how he'd enjoyed the occasion. He was over the moon that he was still being recognised. "Did I scare you?" he exclaimed excitedly.
CHECKLIST
Details: Celebrity Solstice tours around top South Pacific destinations, from New Zealand to the coast of Indonesia during the 2014/15 summer. A tour of South Pacific islands including Fiji, New Caledonia, and Vanuatu begins in October, from $2339pp.
The writer travelled as a guest of the Celebrity Solstice.