Pass the tissues 'cos the waterworks at this wedding are real deep, says Kevin Pilley.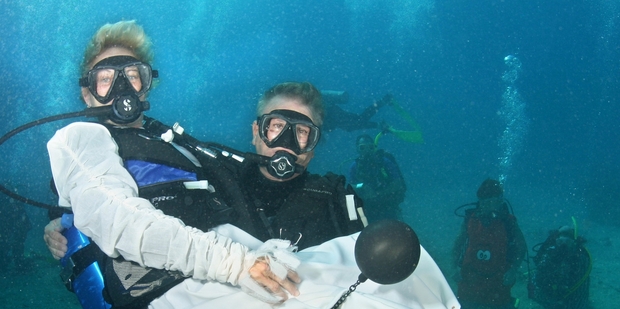 The groom, carrying 24lbs of compressed oxygen on his back and extra ballast in the form of a Howard Johnson motel's bilberry pancake breakfast in his belly, began the final checks.
The 12m dive-charter boat, "The Coral Princess", had anchored at South Carysfort, 13km offshore in Florida's John Pennecamp Coral Reef Park. Cap'n Slate put his hands on his tasteless hipsters and shouted: "Is the wedding party ready? Are you all geared up and got your dive buddies? Well, let's do it! Let's get married!"
There were three splashes as the priest and official photographer fell backwards into the sea.
A few moments later, the bride - looking radiant in her pink wetsuit and matching aqualung - waddled to the diving platform and, after taking a few deep breaths, took the plunge. Into the 160sq km reef, which is the second largest in the world after the Great Barrier.
According to her prerogative she kept her husband-to-be waiting as she allowed the sediment from the sea bottom to clear and her ears to equalise.
The bride arrived a few minutes later at the altar in middle of the towering elkhorn, brain and staghorn coral cathedral 15m below sea level. The only witnesses to the ceremony were porkfish, groupers, stop-light parrotfish, a solitary clownfish, some snappers, a few ratpon, a few amberjacks and several bemused bonefish.
There were a few grunts, too. As well as one sergeant mayor
Ten minutes later, the couple, having written the words "I do" on some cards, were pronounced man and wife by the female priest or notary public who then semaphored to the groom that he could remove his breathing apparatus and kiss the breathless bride.
Underwater weddings are still popular in Florida - a state that is not short on deep experiences.
You can also stay at the world's first and, so far, only underwater hotel. Dress codes are usually fairly relaxed in America but at the Emerald Lagoon in Key Largo, 87km south of Miami, they won't let you in unless you are wearing flippers and a snorkel.
The southernmost state of the US is the self-proclaimed water sports capital of the Western world and now, along with the usual suspects of swimming with dolphins and hand-feeding moray eels, you can even sleep the night in water, too.
A former marine laboratory, the Jules' Undersea Lodge opened in 1986. It can accommodate two couples in "inner space".
Inside your undersea habitat, you feel as if you have driven along Interstate One in a large high-tech caravan and your automatic coaster has suddenly malfunctioned, sending you veering off through palm trees and "Tackle & Bait" advertising hoardings. Only to land upright on the sea bed. The underwater lodge is more like a submerged caravan than a hotel. But it is exclusive and private. Every window, 10cm thick and 107sqcm, offers an unbeatable sea view.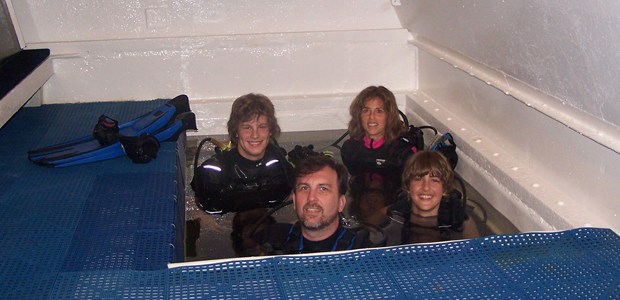 A wedding party at Jules' Undersea Lodge.
When you check in you need to show your diving qualifications, not your passport. No scuba experience? Then you can attend a three-hour aquatic habitat orientation programme, which involves learning what saltwater tastes like and how to put a pair of flippers on the right way. As everyone knows: there is no right way to put on flippers.
The programme I attended was run by a lady from Illinois who introduced herself as "a full-time professional mermaid". She accompanies guests on the short downward dive to their room, taking with her a fillet mignon, lobster and other microwave-able delicacies. The room service at the lodge is excellent and faultless.
If you leave your shoes outside your door they are clean in the morning.
Smoking and drinking is prohibited overnight, but you can watch videos and DVDs like Splash and 20,000 Leagues Under the Sea.
Or just read from the well-stocked library, watch the voyeuristic manatees watching you and leisurely maximise your 600sq m of living space. The hotel's brochure boasts a "limitless" air supply.
At check-out you decompress and receive an "Aquanaut" certificate, verifying you have spent the night underwater. And enjoyed all the benefits of the experience. Which are obvious and many. Staying underwater in Florida is the best way to avoid sunburn and melanomas. And, of course, the maddening hordes of mosquitoes. And tourists.
CHECKLIST
Getting there: Air New Zealand flies daily to Los Angeles and San Francisco, from where local carriers go to Florida.
Details: Jules' Undersea Lodge is in the Key Largo Undersea Park, Key Largo, Florida.
Further information: See DiscoverAmerica.com for more on visiting Florida, or check out the 'Trip Tuner' for additional travel inspiration.