Western Australia's humpback visitors and Ningaloo coral reef thrill Mike Osborne.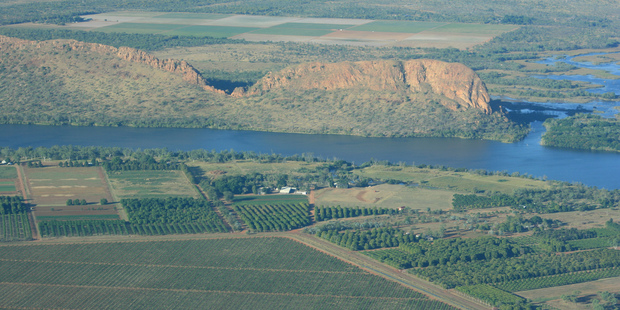 Chris Pritchard explores some lesser-known highlights of the East Kimberley.
Kununurra
It's unusual to have a national park within walking distance of town. Moments after breakfast I'm trudging along a boardwalk between steep gorges at Mirima National Park (still commonly called Hidden Valley National Park).
Trails head between steep cliffs. The best view over town is from a lookout called Kelly's Knob. Scenic Ivanhoe Crossing is famed for barramundi fishing - but not for swimming because of saltwater crocodiles.
Argyle Diamond Mine
Producing 20 million carats a year, the world's largest diamond mine is best-known for its pink diamonds. Visitors are admitted if they take day-trip tours from Kununurra.
Wyndham
A lunch date at the Old Rusty Shed brings me 103km (negligible in these parts) from Kununurra to Wyndham, an old port that fell on hard times but now has renewed pep because of iron, nickel and beef exports, as well as cruise-ship visits.
Five Rivers Lookout has vistas of the King, Durack, Ord, Forrest and Pentecost winding through wetlands to the sea. This area is famed for migratory birds arriving from as far as Siberia, best seen from hides and boardwalks at Parry Lagoon Nature Reserve.
Ord River Irrigation Area
The first slow-growing sandalwood crop will be harvested this year. Trees take a decade to mature and grow and only if joined to parasite trees. Sandalwood is used in perfumes and toiletries.
Tours through the Ord River Irrigation Area - originally intended for cotton and sugarcane - pass large sandalwood plantations, tropical fruit such as mangos and bananas as well as sorghum and chickpeas. Tourists with cars often explore the area independently.
Lake Argyle
Australia's biggest artificial lake, of which Lake Argyle Resort owner Charlie Sharpe says: "Sometimes you feel this vast body of water is your private lake."
Fishing and jetskiing are popular. Cruises offer croc-spotting and sights of catfish feeding frenzies. Wallabies hop at the lake's edge. A shop and restaurant cater for day-trippers. Accommodation is in family friendly serviced apartments or motel-style.
Ord River Cruises
I'm on a cruise run by Triple J Tours, clearly one of Kununurra's more popular diversions. We stop for tea in a clearing on a forested river bank after pausing to eyeball eagles soaring overhead and other birdlife - along with saltwater crocodiles basking on the banks.
Visitors go by bus to Lake Argyle, 70km from Kununurra, stopping at the pioneering Durack family's former homestead, and then cruise down the Ord River - or travel in the opposite direction.
IF YOU GO
Fly there with: Air New Zealand.
Explore more at: myaustraliapassion.co.nz
- AAP