Peter Clark flies on JQ7878, as Jetstar takes delivery of its new B787 Dreamliner.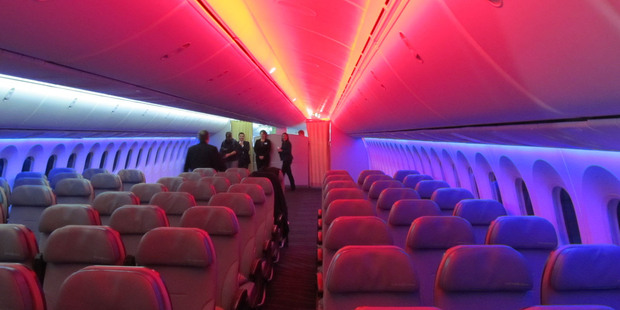 The Dreamliner has arrived in southern skies.
Jetstar's first Dreamliner B787-8 arrived in Melbourne last Wednesday. On board what was the 92nd B787 to be delivered from Boeing were the CEOs of both Jetstar and parent company Qantas, along with industry analysts, media and several crews.
For passengers, the aircraft is a new experience. It's very comfortable as the gust-alleviation control system gives a smoother ride. This senses turbulence coming and makes adjustments to counter the movement changes. The flight was flown on both sectors at 40,000ft, while the cabin altitude was at 6000ft. Over a long haul, passengers feel like they've flown at a lower altitude, with less sinus pressure.
The cabin experience is also enhanced with large, electronically controlled windows.
On our early morning departure on the Hawaii-to-Melbourne sector of the delivery flight, nearly everyone on board had found a row of three seats and put their heads down for a rest.
With the cabin completely dimmed from the crew master control panel, there was just a little light coming through - enough to see what you needed without disturbing other passengers. At each seat you can subtly adjust the blackout and have a good view. In other aircraft, you would lift the shutter and wake the whole cabin with full brightness. The windows are said to be 65 per cent larger than comparable aircraft.
The other great feature is the high cabin ceilings which give a feeling of size and space. The large overhead bins pull down low and are the largest capacity I have seen. All of these things give you a feeling of a very large aircraft.
The best seats in economy are bulk head or in the two exit rows.
I have to say, the passenger experience with a long-haul international low-cost carrier will be something very new for many. The B787 - an aircraft I see as leading international travel into the future - is going to be hard to beat.
The B787 will be progressively introduced on to Jetstar's international network, operating to destinations presently served by A330s including Hawaii, Phuket, Phuket, Bali and Japan. The A330 operates Auckland to Singapore, a route that will also someday include the B787.
Jetstar's first aircraft will operate domestic services from Melbourne to the Gold Coast and Cairns, with first flights on November 13. The aircraft will run on domestic service for around four weeks before shifting into international services on December 18 from Melbourne to Bali daily over summer. Jetstar expects to have three Dreamliners in service by early 2014.