Grant Bradley takes an internal flight across South Africa.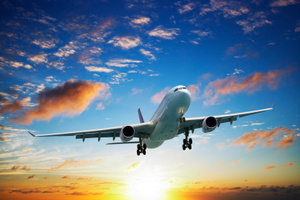 The plane: A Boeing 737-800, one of the later models of this fabulous workhorse, but well worn.
Class: Economy, with a 3-3 seat configuration. In business, separated by a curtain, it's 2-3 seat. There's an 8kg limit on hand luggage but no sign of enforcement of that.
Price: Economy tickets on this popular commuter run go for a little under $200 for the two-hour flight.
On time? We pushed back eight minutes late on a glorious morning.
My seat: 22C, on the aisle. Older-style cloth seats, plenty of leg room though.
Fellow passengers: It was a Saturday so not the usual number of suits. The plane can seat up to 157, but was about two-thirds full.
My neighbour one seat over, was Sam, who was very curious about New Zealand's economy and did not have much time for Oscar Pistorius.
Entertainment: Flip-down screens showed short items with good-looking people apparently extolling the virtues of South Africa. No headphones were offered so it was hard to tell. A glimpse of the sprawl of Johannesburg, the brown of the veldt, but little of Cape Town, which was being battered by the worst winter storm in years, making for an exciting landing.
Service: South African Airways has a reputation for keeping up staff numbers, so no shortage of personnel and they were very friendly.
Food: SAA is also clinging to the full service model, so a full breakfast of omelette, sausage, potato and tomato, with juice and coffee was served.
Toilets: Clean, fairly tight space.
The airport experience: OR Tambo in Johannesburg is very big and named after the exiled freedom fighter. In the apartheid era it was Jan Smuts Airport where All Black teams arrived to a taste of the fanaticism that would doom them to successive failures and where one infamously said he was looking forward to "scoring more off the field than on". The security is formidable, heavy iron grilles, lots of guards and I was a bit of a shambles after 26 hours' journey time, rumpled suit on top of other clothes, pockets full and inevitably triggering alarms and well deserving of closer inspection. One stern-looking guard undid my shirt buttons and, just as I was preparing for a fairly intimate frisk, did them up again - this time in the right order - turned my collar over my jacket, smiled, gave me two thumbs up and told me it was "a much better look".
Would I fly again? Certainly, but I'd also love to make the two-day "reverse trek" to the Cape in a car.
Business Herald aviation reporter Grant Bradley flew as a guest of SAA.