Lydia Jenkin enjoys some jewels of the Pacific - and shipboard rest and relaxation - on an island-hopping journey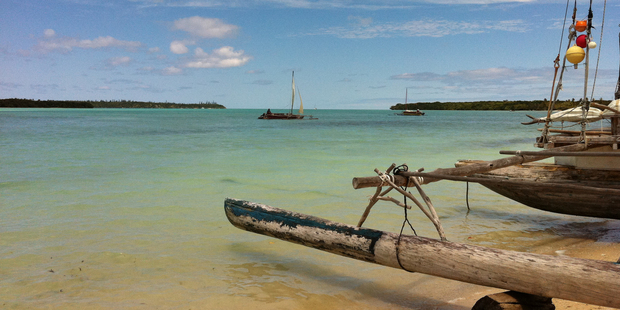 Before this trip, I was a bit of a cruise sceptic. I had visions of kids and retirees, bad food, and hordes of people trying to cram on to the same tiny strip of white sand whenever they got off the ship. I was quite wrong. Yes, it's a comfortable way for families and older travellers to enjoy a trip away, but there were plenty of young people, in couples and groups, simply keen to enjoy a Pacific holiday too.
It's a relaxing, easy way to pretend you're Captain Cook (without the colonisation aspect), exploring these tiny islands, dotted about the ocean, and experiencing their wondrous natural treasures and unhurried way of life.
Most significantly for me, the island stops, and the activities on offer were well executed, and neatly avoided the "being herded around like sheep" mentality, offering options to suit a range of ages, interests, and energy levels. From lying on the beach, to historic site tours, to all sorts of watersports - you could have your pick.
My partner and I joined one of P&O's largest ships, the Pacific Jewel, for half of a 10-night cruise. It left from Sydney, journeying to the New Caledonia Islands of Noumea and Lifou, followed by Port Vila in Vanuatu, where we boarded, before heading off to Vanuatu's Mystery Island (Aneityum to the locals), and New Caledonia's Isle of Pines, and then returning to Sydney.
We spent our first afternoon getting acquainted with the ship - settling into our lovely twin balcony room, meeting some of the very helpful staff, checking out the facilities (everything from bars and pools, to a library and full gym/spa/sauna), and enjoying the sun-drenched decks.
We were then treated to a tour of the bridge (these ships really are a bit of a technological marvel), before the Jewel lifted anchor, and we headed to the Waterfront restaurant for dinner. The service was impeccable, and the food was appetising and fresh, despite coming out of a kitchen that serves 2000 people a day, and must be planned and stocked in Australia before the ship leaves.
We awoke the first morning to find ourselves anchored not far from Aneityum (or Mystery Island as they call it in the brochures), the sun already illuminating the turquoise waters surrounding us. After a quick breakfast, we headed to shore on a tender (think more miniature ferry than life raft) to explore.
Aneityum Island is made up of two islets: Inyeug (the hunting island) and Navinacas (the fishermen's base). While Inyeug has an airstrip on it, it is uninhabited, with the locals from Navinacas only coming across to meet the cruise passengers.
There are no formal shore tours currently in place on Aneityum, though we were treated to one which is in development, on Navinacas. It was a lovely, personal introduction to Vanuatu, and explained much of the island's colourful past, along with the roles of the church, traditional dress, and local cuisine.
There are a wide variety of activities available on Aneityum of course. Sunbathing on the white sand, walking the wooded trails, talking to the locals at the markets, various watersports and fishing opportunities (including rides on traditional outriggers), having your photo taken in the large "cannibal pot" (the locals like to laugh about that aspect of their history) and of course snorkeling, were all popular choices.
The reef around Aneityum is in fairly well pristine condition and offers good visibility. There's plenty of fish, coral, and other Pacific creatures to gaze upon in safety, close to shore.
After all that fresh air and exploration we were happy to spend an hour or two relaxing back on board the ship before it was time for dinner - though there were plenty of passengers getting into cheering their home team on with an AFL final on the big outdoor screen, or testing the mixology skills of the bar staff at one of the seven bars on board.
The next day we awoke to find another island jewel drawing us on to our balcony. The stunning Isle of Pines is just as breathtaking as the photos suggest. The tall, distinctive Araucaria conifer trees (for which Captain Cook named the island) are an impressive sight above the more traditional low-lying tropical vegetation, and the colours of the sand and water reinvigorated our notions of white and blue. Perfect tranquillity.
We could've opted to simply loiter about, sunbathe and soak up that tranquillity, but there's also an array of action-packed tours available on the French speaking isle.
We started with a boat ride out to one of the smaller islands, our eyes peeled for manta rays and dolphins as we cruised about, but primarily focused on finding another sea creature - a loggerhead turtle. Sitting on the edge of the large, speedy inflatable, with the ocean rushing past, and salt spray flying up, was an invigorating wake-up, but miraculously our guide knew exactly where to find the turtles, and before long we were all jumping overboard, snorkels on, to get a better look at the wise guy, who was entirely unfazed by the tourists splashing about.
He brushed past me at one point, his shell feeling oddly like a mossy rock, and it was magical to be up close with such an other-worldly creature.
Then we were off to a tiny islet called Kotomere, a strip of white sand poking out of the ocean, which feels like a surreal world, stripped of modern worries. It would be a tough place to be shipwrecked, but it was perfect for a midday swim.
Later in the afternoon we wound our way back through the archipelago and pulled up on the mainland, heading towards the "piscine naturelle" - the natural aquarium in Oro Bay. It's like an underwater fairy wonderland - warm, unbelievably clear water in which an abundance of beautiful fish dart about well spaced rocks above golden sand, in a sheltered lagoon. It's truly stunning, and will lure even the most tentative snorkeller.
We then headed to the other side of the island to check out the natural grotto of Queen Hortense, a huge, imposing cave with numerous stalactites and stalagmites, and a little stream, which was said to be the hiding place of the young Queen Hortense for nearly a year while rival tribes fought over her succession in the mid-1800s.
Then it was back to the ship, knowing that we'd be spending the next two days and three nights at sea. That might have freaked me out were it not for the quality of our room (we were treated to our own balcony), plenty of opportunities for fresh air on the upper decks, and the sumptuous spa facilities. The many different steam rooms and the relaxation room were the perfect place to unwind, and were beautifully presented with uninterrupted views out to sea. Their fitness classes were excellent too (trying to do yoga on a moving floor was a new experience), and the gym facilities plentiful.
We were also treated to some excellent culinary experiences, the highlights being a five-star degustation meal at the Waterfront, and a brilliant showcase of Australian cuisine at the Salt Grill - a restaurant created by Aussie celebrity chef Luke Mangan. And of course sailing into Sydney harbour as the sun came up was a triumphant end to a most enjoyable holiday, and opened our eyes to the city in a new way - as only travelling by ship can.


Checklist Vanuatu
GETTING THERE: P&O Cruises take in New Caledonia, Vanuatu, and Fiji in a variety of combinations, leaving from Sydney, Brisbane, and Auckland, throughout the year.
ONLINE: pocruises.co.nz


• Lydia Jenkins travelled as a guest of P&O.