Carol Smith gets carried away with the stage return of an old favourite.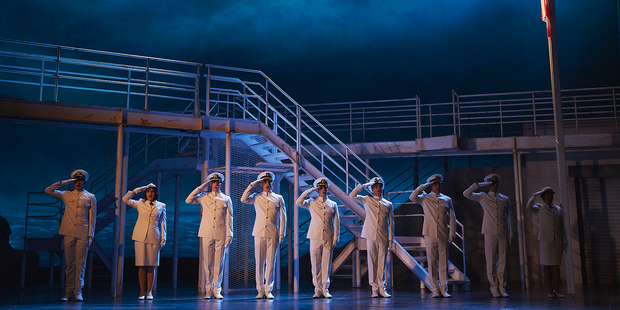 Remember the 80s when we swooned over Richard Gere in his crisp, white US Navy uniform?
He was an officer and a gentleman when he marched into the factory to sweep love interest Paula Pokrifki off her feet and away to a better life. I'm still humming Up Where We Belong when a bump alerts me that we have landed on Sydney tarmac.
I'm here to see the world premiere of the stage show, An Officer and a Gentleman, in the Lyric Theatre, part of the newly renovated Star building.
New Zealand director Simon Phillips, who lists Priscilla, Queen of the Desert and Andrew Lloyd Webber's Love Never Dies among his Australian musical successes, hopes the public will embrace the show as they did the 1982 film.
There was a physical element to casting the show - as well as singing and dancing, the recruits had to be fighting fit.
"The physical requirements for the men are unbelievable. The lead has to meet the usual requirements for a musical and also do five push-ups and climb a wall with a rope," Phillips says. "You can't cheat onstage."
Enter Zack "Mayo-naise" Mayo, played by Ben Mingay, who recently starred as Tommy DeVito in Jersey Boys.
Gere never had abs like this, though he had more charm. Mingay is suffering a torn groin, which doesn't slow him down - he bounces around the stark military set with ease, does dozens of push-ups, gets in fist fights, belts out his numbers, gets frisky with his girl and presents himself shipshape for inspection.
Ken Hirsch and Robin Lerner had to compose a masculine musical score to suit the show's gritty theme. They had the advantage of the hit movie song but had to please Phillips, a perfectionist known to make changes up until the curtain opens.
"When you do the first workshop run you suddenly see cracks. And it's a new process again once we get it in the theatre," says Phillips.
I'm transported from Mayo's early life with his whoring Navy father Byron (Bartholomew John) in the Philippines to signing up for the Navy's Aviator Officer Candidate School where he meets badass Sergeant "stop eyeballing me, boy" Foley.
Bert Labonte does a fantastic job of filling Lou Gossett junior's boots and steals the show with his one-liners and rich, resonating voice. The drill instructor attempts to get his Sweet Peas to D.O.R (drop on request) before their 12 weeks' training is over. He's particularly hard on Mayo who, despite not believing in love, hooks up with his factory girl Paula (Amanda Harrison) as well as hitting the books hard enough to realise his dream.
Yes, it's a happy ending, but you knew that. If you loved the movie, you'll be pleased that the transition from celluloid to flesh stays true to the original formula.
Sydney is preening its artistic feathers, revelling in its $53 million redevelopment of the Museum of Contemporary Art Australia, which has a prime spot overlooking Circular Quay. If the artwork doesn't inspire you, just look out the giant glass windows at the moveable feast on the harbour.
I am entranced by the funky orange triangles that lead up the staircase entrance. Tango, by Australian artist Helen Eager, will be shown for a year and then another artist will get the chance to create in this space.
The museum is Marking Time with the exhibition I view and so am I as The Clock, a 24-hour video work by Christian Marclay, stops me in my tracks. It's a collage work made into film with thousands of short clips from cinema history, each showing a particular time of day, edited together to form a visual sequence synchronised with the real time of my visit. Genius.
My rumbling tummy requires food so I leave via the back entrance, which takes me on to the quaint, cobbled streets of The Rocks, where the only obstacle to finding fabulous food is the lack of deep pockets. I settle at Pony Lounge and Dining where I salivate over crisp, fried king prawns with Szechuan spice and sigh when the last bit of potato gnocchi sauteed with sage, pumpkin and walnuts has disappeared. Like other top restaurants I sample - Balla and Black by Ezard, both in The Star building - the restaurant's design is an artwork itself and diners can watch the chefs cooking.
Appetite sated, I am ready to tackle the Art Gallery of NSW which houses a superb collection of Aboriginal art. Entries for the Archibald Prize, awarded to the best portrait painting of a distinguished personality, also fascinate me. This gallery is evolving - it's so hip it has an iPad app that lets viewers discover stories behind some of the gallery's most famous works.
On my last day I stop to view the Danks St art galleries in Waterloo, a neighbourhood with working-class history and a multi-ethnic population that is changing as contemporary art and foodies move in.
Isobel Johnson from Sydney Art Tours will tailor-make a walking tour for you. We visit established and emerging commercial galleries, everything from the bright, colourful work of up-and-coming artist Damien Sydney at Kaleidoscope Gallery to the sleek, silhouette work of established Berlin-born artist Stefan Thiel at Dominik Mersch Gallery.
Thiel's Black Facebook silhouette works feature "100 Berlin-based men" and fashion works, which refer to the dictation and fetish of the consumer world that rule his surroundings in Berlin's Kurfurstendamm, an area occupied by fashion boutiques and flagship stores such as Prada.
Then it's on to something different from artist Debra Dawes, who has produced an unsettling work in Sentencing, done after 18 months of exchanging dozens of letters with a prisoner. Dawes hopes by reproducing the letters as art she might help people understand what it's like to be in jail. A room of these texts is daunting.
My Polish driver asks while on our way to Kitchen by Mike for lunch - a huge warehouse-type cafe which serves mouthwatering super-fresh food - if I've enjoyed the different galleries and "the poofs", referring to Thiel's half-clad black silhouettes, some of which are in risque poses.
Yes, I have, and before I get on the plane home I manage to see garden art in the form of Patrick Blanc's Vertical Garden in the Qantas Lounge.
If you get a first-class pass you can lie in the spa surrounded by Blanc's creation.
It's a good season to visit Sydney, which is basking in late autumn sun. In a role reversal, the flies are mercifully absent while the taxis are not. Cabbies queuing on ranks is a sign the recession is biting. But that's not stopping Sydney putting its best foot forward.
There'll be no tourists wanting to D.O.R. during their time here.
CHECKLIST
Getting there: Qantas flies to Sydney daily.
Where to stay: The Sofitel Sydney Wentworth is a five-star hotel in the heart of Sydney's CBD.
Further information: An Officer and a Gentleman is playing at the Lyric Theatre, Star building. Isobel Johnson from Sydney Art Tours will tailor-make a walking tour for you.
Carol Smith was a guest of Destination NSW and Qantas.