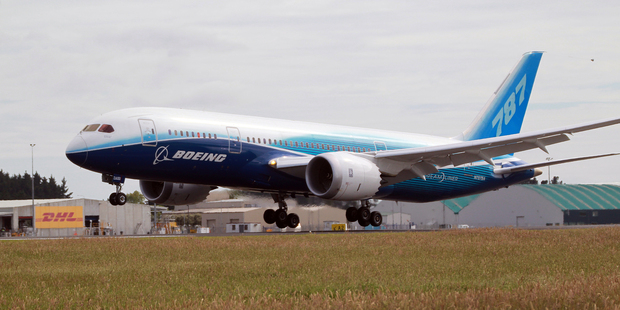 Another step in the long wait for the Dreamliner will be taken today when airline staff get their first opportunity to pore over a partially fitted-out $220 million-plus "demonstrator" aircraft on a flight from Sydney to Auckland.
Boeing is working frantically to fill a backlog of orders for around 850 of the planes made largely of carbon fibre reinforced plastics.
The programme has been delayed for more than three years by development and global production problems.
Air New Zealand has firm orders for 10 of the larger nine-series planes which promise 20 per cent fuel efficiency gains on similar-sized aircraft and greater passenger comfort, but will not get them until around the middle of 2014.
The airline's programme director, Kerry Reeves, said the Dreamliner would initially replace its 767s and so would fly on those routes - Japan, Australia and the Pacific Islands.
The nine-series jets are capable of carrying up to 290 passengers, 40 more than the eight-series, according to Boeing specifications.
Reeves said more powerful engines and heavier landing gear on the longer nine-series planes had added more weight to them but according to specifications they will be capable of flying up to 15,200km.
No decisions have been made on the configuration of Air New Zealand cabins but when the aircraft are used on routes to the United States and Britain they are likely to have more premium class seats.
Japanese airlines now flying Dreamliners have fewer than 200 seats on long-haul routes.
When Air New Zealand signed as the launch customer for the 787-9 in 2004, it expected to have them by late 2010. The delays have forced changes to fleet planning and crimped the airline's international ambitions.
Reeves said the holdups had been enormously frustrating.
"We would rather keep the momentum growing rather than building up anticipation and [then] have to unwind it and then restart it again."
Boeing had yet to fly a prototype of the nine-series aircraft but that programme looked to be on track, he said.
"We are keeping a very close watch on progress and analysing the risk as you'd expect, but we're confident."
Reeves said Boeing had been candid about progress and "refreshingly open" about any problems.
Grant Bradley travelled to Sydney courtesy of Air New Zealand and Boeing.