Pop-up tents make camping easy, writes Diana Clement.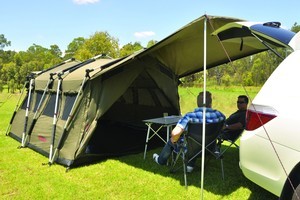 Bring on summer. We love camping as a family. But I have the attention span of a fruit fly when it comes to putting up all the gear.
I recoil at the thought of fitting pole sections together or feeding them through hoops. There's nothing more stress-inducing on a holiday than hours spent setting up camp.
Thankfully, a legion of bright-spark camping designers have come up with all manner of time- and labour-saving devices that make camping effortless. These inventions range from tents that pop up straight out of the bag, to self-inflating mattresses, and even easy-to-use solar panels.
Over the years I've built up a collection of every time-saving camping device imaginable. That translates into all the more time to crack open a bottle of wine, sit back and enjoy the great outdoors.
Instant tents
I'm a tent geek. I even had a shortcut on my computer desktop to Trade Me's camping section for a few months until I'd bought not one, not two, but three instant tents.
One for every occasion, whether it's an overnight tramp or the family summer holiday.
The easiest ones to erect simply pop up using the same technology as children's play tents. Although not readily available on the high street in New Zealand a swathe of pop-up tents such as the Roman Rapid Deluxe 2 can be bought online.
This tent and others like it can, literally, be taken out of the bag and thrown in the air to self-erect. Push in a few tent pegs, chuck over the fly sheet if it's not built in, and you're done.
Most of these sleep only two. European company Quechua has come up with an interlocking system where several of these tents can be joined to a central pop-up living area.
For larger groups or those who like head room in our tents, there is another style of instant tent. These tents, which come with names such as "turbo tent", "swift pitch", or "quick pitch", look like ordinary family tents but have the poles fixed in. It's just a matter of pegging the floor, then pushing the poles up. Some even have the fly sheet permanently attached.
I've got an OZtrail Elite Swift Pitch tent, bought from equipoutdoors.co.nz, which is erected in little more than a minute and complemented with an instant-up gazebo, from Kmart. Larger families like the Rawlings from Whatawhata simply erect two or more instant tents with a gazebo in the middle.
Geoff Rawlings owns EquipOutdoors and has access to virtually any style of tent he could want for, but prefers for his family camping trips to use a couple of Pitch-o-matic brand swift-pitch tents that are up in seconds.
My OZtrail tent is no longer readily available in New Zealand. A similar tent, the Coleman Instant Up 4, is. What's more, the more upmarket (and expensive) Black Wolf Turbo series can be bought through FCO Fishing Camping Outdoors shops and Pack & Pedal stores.
For detractors who wouldn't countenance a night under nylon or polyester, the Black Wolf Turbo 300 is even made of canvas. Perhaps even better, the instant and sturdy Aussie Outlaw Tomahawk canvas tents will be available through Rawlings' store before Christmas.
The Coleman tent comes stamped with a "100 per cent anti Divorce" label. I'm sure I'm not the only camper who has decided it's easier to erect the tent singlehandedly rather than put up with a partner who assumes you can read his or her mind.
A third variety of semi-instant tents common in Australia and occasionally available to buy here are "tourer" tents. These one-room tepee-shaped canvas tents, such as the OZtrail Tourer 9, erect with a single pole. They are great for road trips because they're small and fast.
None of these tents are suitable for overnight tramps that involve carrying a tent. That's where my third instant tent comes into play. It's a 1.3kg Luxe Mini Peak II. It uses a single walking pole or even a stick to pitch. If that's too much effort, Pitch-o-matic makes a 2.55kg one-man variety of its swift-pitch tent.
All of these are revolutionary compared to what was on the market five years ago. Sometimes seeing is believing and virtually all of the brands mentioned in this article have demonstration videos on YouTube.
Whatever the style of instant tent people choose, it's a good idea to look after the poles well, or choose a higher-end make such as Black Wolf, which has spares available in New Zealand. Not that they break, says Rawlings. His other tip is with the pop-up tent, familiarise yourself with putting it down before you go away, otherwise it could be confusing.
Sleeping
Lion-wrestling is how I would describe the act of putting together traditional spring-style camp stretchers. Even cross-leg camp stretchers require the canvas to be stretched with superhuman strength and an end bar fitted. Thankfully, some clever person has invented a new style of fold-out stretcher, which really does take a few seconds and no effort to erect.
The real instant-camping sleeping secret is kept for mum. That's a Roman 4WD self-inflating mat from EquipOutdoors. It's a wonderful invention that is 50/50 foam/air bed that unrolls, fills itself with air, and is almost as comfortable as sleeping at home. Bliss. Other stores such as The Camping Outlet in Auckland sell DMH and Bushmate 4WD mats.
The kitchen sink
If you think this instant camping lark sounds like "taking the kitchen sink" with you, you're not wrong. Manufacturers such as Kiwi Camping and Kathmandu sell kitchen camping sinks in folding work-bench units.
A few years ago I bought a camping pantry. Actually I bought two but I found I didn't have the concentration span needed to fit the pole sections together. It was replaced with an instant-up folding pantry, which really is the business.
Ablutions
One of the complaints that people who love their creature comforts have about camping is the lack of private toilet and shower facilities. OZtrail and others make double pop-up shower and toilet tents. It's even possible to buy camping showers and portable toilets to go in your en-suite.
Buying advice
Not all of the gear mentioned in this article is available at standard high-street retailers. They do all come up for sale new or second-hand on Trade Me from time to time, or are brought home by expat Kiwis.