Criminal record aside, Chicago offers a metropolitan wonderland, says Roger Hall.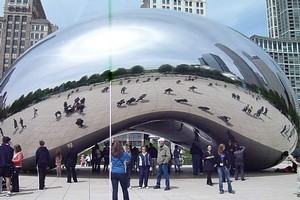 I climbed on board a bus in downtown Chicago, showed my seven-day pass to the driver and told her where I wanted to go.
"Wrong bus," she said cheerfully. "The one you want is just in front. Stay right there."
She accelerated in pursuit, honking her horn to the driver ahead, deposited me at the next stop and waited until I was safely aboard.
Chicago may have a reputation for crime and corruption, however we found nothing but friendliness and interest from the "Chicagoans" we met.
We stayed at Flemish House, a bed and breakfast place in the funky Gold Coast area, close to the lake front and within easy walking distance of the Magnificent Mile. It's an 1892 row house charmingly restored with large, stylishly furnished apartments. We were there primarily to see Frank Lloyd Wright houses but we also wanted to check out the Magnificent Mile (Michigan Avenue), Chicago's most famous and fashionable street.
On either side are speciality shops such as Cartier, Bulgari and Jimmy Choo plus several historical sites and landmark skyscrapers.
The Hotel Intercontinental took 12 years and a whopping $300 million to restore. We took one of the free audio tours, which allow visitors to admire the building's Art Deco interior. The highlight is the 1920s swimming pool on the 14th floor, which was originally used by sports club members and some famous guests: local boy Johnny Weissmuller (Tarzan) and Esther Williams.
The Mile crosses the Chicago River, where we caught the 1pm sailing of an architectural river cruise run by the Chicago Architecture Foundation. During the 90-minute trip, the guide pointed out all the buildings and their architectural features, - numerous skyscrapers, apartment blocks, restored warehouses, Marshall Field's, Willis Tower (formerly Sears Tower), the Lyric Opera, Marina City and more.
I've never been anywhere where people are so knowledgeable and proud of the architecture that makes their city. The city also has some great art. The Art Institute has one of the world's finest collections of Impressionist paintings, extensive collections of Old Masters and Post Impressionists plus two of America's greatest paintings - Grant Wood's American Gothic and Edward Hopper's Nighthawks.
Nearby is Millennium Park, which has two pieces of interactive sculpture.
One, known affectionately as The Bean, has a highly polished surface that reflects and distorts. Everyone was fascinated to look at their misshapen selves, which varied according to whichever vantage point they were at. One couple took photos of themselves jumping in front of it, while a line of schoolchildren lay down under the shiny mass.
The other sculpture comprises two large 10m-high cylinders on which, somehow, faces are projected. The faces move every now and then, and then, unexpectedly, water squirts from their mouths on to children paddling beneath - and unsuspecting onlookers.
The Second City Comedy Club has spawned comedy greats such as Tina Fey, Steve Carell and Bill Murray. We watched The Best Scenes from the last Fifty Years and it had great sketches with a great cast - the place was jam-packed.
Before the show, we ate at nearby Nookies, which serves generous-sized meals at reasonable prices. The young muscular Greek owner came over to talk to us. "Well," he said, "last year I lived in Remuera." He'd been to New Zealand to improve his rugby and hopes one day to play for the US or Greece in the World Cup. Watch out for him in 2015. But his name's not Nookie.
CHECKLIST
Getting there: Air New Zealand, in conjunction with partner airlines, has daily services from Auckland to Chicago, via Los Angeles.
What to see:
Further information: See choosechicago.com.
Roger Hall paid his own way to Chicago.