Roger Hall visited lovingly-restored homes by architectural messiah Frank Lloyd Wright in Chicago and Pennsylvania.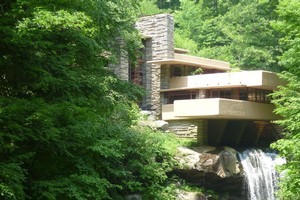 Frank Lloyd Wright was an architectural messiah, but also a very naughty boy.
He loved fast cars and women, and his behaviour has inspired two fine novels, Loving Frank and The Women.
Wright's buildings have become landmarks in architectural history. We had seen none of them but, on a recent trip, we saw more than a dozen.
We happened to have booked a week in May in Chicago which coincided with the two days of the year when the Frank Lloyd Wright Preservation Trust opens many of his private homes as its annual fundraiser.
These days were not cheap - US$165 ($209) for a Prairie Homes and Garden excursion and US$95 for a walk around 10 suburban homes - but they are so popular that we had to book in December to ensure getting tickets.
Wright designed "Prairie" homes to have low horizontal lines to fit into the (mostly) flat landscape of the American Midwest.
A common feature was a central chimney in the house and an open-plan layout.
Wright also insisted he design the windows (and the stained glass in them), the furniture and often the materials for curtains and carpets. Not many clients argued with him and got away with it.
For the excursion, we were driven out to the Avery Coonley house in Riverside, itself an historical landscape site designed by Frederick Olmsted, of Central Park, New York, fame.
In fact this was a medley of buildings forming an estate: the main residence, the coach house, a gardener's cottage and a school house. All this was originally owned by one family (rich enough to have 30 servants) but now split up among several owners, most of whom have spent huge amounts of money restoring them.
Not only were the interiors lovingly presented (it's always fascinating going into other people's homes) but the gardens were superb, too, especially that of The Coach House which had a lovely reflecting pool.
In the afternoon, we were driven back into the city to Lincoln Park Zoo, where we had lunch at the Cafe Brauer, designed in 1908 not by FLW but by Carl Perkins, another Prairie style architect and recently restored to its former elegance. It was interesting enough but not what we had spent $195 for.
We were then expected to hang around the zoo (which had free admission anyway) for two hours to wait for a talk on the Alfred Caldwell Lily Pool. Frankly, many of us felt much of this was stocking-filler stuff and that it wasn't worth the money. We weren't the only ones who left soon after lunch highly dissatisfied with our afternoon.
The next day, we travelled out to Oak Park by train to visit the 10 buildings open to the public (some of them not by FLW but still well worth seeing).
The society had sold 2800 tickets which, inevitably, meant a lot of queuing. For three of the houses, we had to wait 40 minutes and, for another, more than an hour. While this was something of a chore, it did mean we got to meet and talk to several people (one of whom owned a FLW house in Wisconsin and was restoring it).
Highlights were FLW's home and studio; River Forest Women's Club, complete with a small auditorium where the stage had been turned into a dining area; Thomas House, opened to the public for the first time in 20 years, hence the hour-long queue; and the Unity Temple.
All had been lovingly restored and were obviously the focus of huge pride and love from owners, organisers and members of the society.
If you can't be in Chicago in May, there are plenty of other opportunities to see FLW houses in the region and the society's headquarters, Robie House, one of the best of FLW's designs, is open all year round.
And you don't have to go to Chicago. On the same trip, we went to Pennsylvania to see the most famous of all, Falling Water.
It was typical of Wright's perversity that, while the owners chose the site so they could have a view of the falls, he built the house over the falls (and in the process invented leaky homes.)
Just a short drive away from Falling Water is Kentuck Knob, a more spacious (and livable) design than the Prairie homes, which is currently owned by British art connoisseur Lord Palumbo and his wife. Not only have they restored the interior to its original glory, they have filled it with contemporary British art and even added a sculpture park. For me, it was the best of the lot.
CHECKLIST
Getting there: Air New Zealand, in conjunction with partner airlines, has daily services from Auckland to Chicago, via Los Angeles.
Further information: To see more of Frank Lloyd Wright's work see gowright.org and kentuckknob.com (especially for their calendar of events).
Roger Hall paid his own way to see the work of Frank Lloyd Wright.