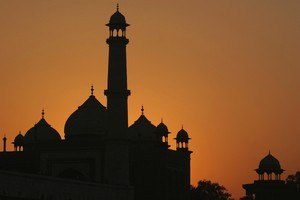 On a cool, dusty night, guards herded our small group of tourists through gates leading to the Taj Mahal. Bright lights glared on us as we walked, and my heart sank. My hopes for a black night with only the full moon glowing on the monument's perfectly symmetrical globes was dashed.
We made our way to a stone platform overlooking the grounds and peered out across the gardens toward the great building.
Then, the guards killed the lights.
Emerging like a ghost from a pinkish haze, the pearly shrine looked feminine and stately, like a queen on a throne. Moonlight glazed its domes.
In the distance, city lights glowed red and the noise of thumping modern music drifted up. But inside the gates, the hallowed Taj Mahal was unperturbed and otherworldly, bathed in silence.
Our group of 15 was in awe. No one wanted to leave. We felt lucky.
And I, who hadn't included the Taj Mahal on my bucket list, was thrilled.
India is bewildering, maddening and stunning.
The sun seldom breaks through the smoky haze. Traffic is chaotic and stops for no one.
Drivers of auto rickshaws, tiny three-wheeled taxis that look like go-carts, chased me down trying to get my business. When I did hire one for sightseeing, he only wanted to take me shopping. I had to argue every time I stepped outside my hotel gates.
"India is kicking my butt," I said to my husband, who was attending a conference while I saw Delhi's sights on my own.
But after adjusting to its raucous rhythm, India was rewarding.
From the enormous red Agra Fort, almost more magnificent than the Taj Mahal, to the lavish gold-embroidered saris of women on their way to a Delhi wedding, the sights were beautiful.
I saw richly decorated tombs, palaces, mosques and temples, where most tourists were Indians, clearly proud of their heritage. Inside, even at the busy Taj Mahal, crowds were orderly, lines moved quickly, people were friendly and the centuries-old buildings were spotless.
Sikhs in turbans, Muslims in hijabs and Hindus in saris mingled everywhere.
In Delhi, television and newspapers were sophisticated, bars and restaurants hip. The city's newly expanded subway gleamed.
I ate heavenly chicken tikka makhni with a smoky tomato flavour, spicy Goan fish curry, morels stuffed with cashews. I drank fragrant Assam and Darjeeling tea with milk.
In New Delhi, the capital of India, which lies within the metropolis and was built in the early 1900s by the British, I admired manicured gardens filled with palm trees, tropical flowers and neat hedges.
And I met people like bus guide Mervyn Thomas, a young Christian from the country's northeast, who walked with me to a Sikh temple I wanted to photograph just so he could help me cross the busy streets. He asked for nothing in return but my email address.
There are so many sights in sprawling Delhi, it's impossible to see them all.
I took the subway to a stop near Lal Qila, the massive Red Fort in old Delhi, and wandered through a maze of streets called Chandni Chowk, jammed with bike and auto rickshaws, goats, tiny shops, honking taxis and swarms of people.
The Red Fort dates back to 1648 and was built by the emperor Shah Jahan, who also built the Taj Mahal. Inside the sandstone palaces were hundreds of rooms with delicate arches, gilded trim, brightly coloured semi-precious stone flowers inlaid in marble and women in pink, orange and purple saris.
I'm a Gandhi-phile, so I couldn't miss the little Museum of India's Struggle for Freedom near the Red Fort. A small, simple place, its walls were filled with black-and-white photos from the British colonial days through to independence in 1947. Most had English captions.
Toward dusk one day, I made my way to Raj Ghat near the spot where Gandhi was cremated after his 1948 assassination. Stone walls surrounding an eternal flame read, "Oh, God," the last words he uttered. Near the flame, I noticed people looking oddly at me and realised everyone else had left their shoes near the gate.
There was Dilli Haat, a traditional-style open air craft market with stalls of food, textiles, crafts and even a snake charmer. I bargained for a US$12 (NZ$16.20) kurta, a long bright tunic.
India Gate, a stately monument that looks a lot like Paris's Arc de Triomphe, is inscribed with the names of soldiers who died in various wars. It straddles a pretty tree-lined boulevard, the Rajpath, making it seem even more Parisian.
A guide I hired whisked me past the wondrous Lotus Temple of the Baha'i faith with its white marble wings that look like an opening lotus flower; intricately designed tombs; the peaceful Lodi Gardens; the minarets of the Jama Masjid, the largest mosque in the world, and the stately parliament and president's house.
On my last day in Delhi, I found the best sightseeing option of all. It's the Purple Bus run by Delhi Tourism. For US$8, you can ride all day and get on and off at 19 sites.
The 193-kilometre drive to Agra from Delhi took a knuckle-gripping five hours each way, as our hired driver dodged people, animals and overloaded trucks, honking the whole way. That afternoon, the Taj Mahal was an oasis of calm and beauty. No photo does it justice, partly because no photo shows all of it. The white marble monument overlooking the Yamuna River is flanked by two lovely, symmetrical red palaces that would be worthy sights on their own.
We shelled out more than I've ever paid for a hotel, US$660 for one night at the elegant Hotel Amarvilas, which looked like a palace. Our room had a perfect view of the Taj Mahal from its arched windows. We watched the sunset from a pavilion full of cushions and pillows near an enormous swimming pool. Live sitar music drifted down the marble stairs on our way to dinner.
Once it was fully dark, we walked past the hotel's opulent courtyard to our second date with the majestic queen, this time by moonlight.
IF YOU GO
When to go: The best times are outside the hot summers and monsoon rains, between mid-October and April. In late November, daytime temperatures were in the high 20s and nights around 15 degrees Celsius.
Hotels: We stayed at the Shangri-La Eros in central Delhi, with a huge multinational breakfast buffet, nicely sized rooms, a big window and luxurious bathroom, only a few blocks from the subway. Rooms are about US$280 with advance purchase.
In Agra, the top choice is the Hotel Amarvilas, US$660 on Expedia for one night. The Amarvilas was ranked the number two Asian hotel in 2010 by readers of Travel and Leisure.
Full moon viewing of the Taj Mahal: Just 400 people are allowed inside the grounds in staggered groups every half hour on the night of the full moon and two nights on either side (except Fridays and during Ramadan). The cost is US$16.50 for an adult and US$11 for a child. You must arrive at the night entry gate at least a half hour early for processing. If you're late, you'll forfeit your ticket. The easiest way to book, which must be done at least 24 hours in advance, is through your Agra hotel.
INDIA DOS AND DON'TS
Do: Stay awhile. I spent 12 days on my India trip and two of those were in the air. It wasn't enough. Spend at least two weeks and travel to more places, such as Jaipur.
Don't: Fret over foreigner prices. Whether it's shops, temples or rickshaw rides, you'll pay more than Indians. Our entrance fees to museums and forts cost 10 times what locals paid, but the difference encourages Indians to visit their own monuments and provides money to preserve them. Haggle where you can, but be good-natured about it.
Do: Buy local clothes. I avoided white tennis shoes and bum bags, but still, I felt underdressed in India. Women wear long, colourful tunics called kurtas over jeans or leggings and salwar kameez, tunics over flowing pants, with a long scarf. In the final days of my trip, I bought three kurtas, but wished I'd done it sooner. Once I put a kurta on, I fit in.
Head to Fabindia or Anokhi, both with multiple Delhi locations, to buy kurtas, pillows, tablecloths, napkins, sheets, scarves, dhurrie rugs and other brightly patterned Indian cottons. Fabindia also carries spices, exotic lotions, teas, paper and toys. Prices are higher at both stores than you'll find in smaller shops aimed at Indians, but still very reasonable.
Don't: Let drivers decide where you should go. Have your destination in mind when you hop in and don't let them talk you out of it. One driver suggested I go to Central Cottage Industries Emporium, a giant shopping complex with goods from all over India. Since it was on my list, I agreed. Instead, he took me to a fake version, a dumpy small shop with exorbitant prices and a sign reading: Cottage Emporium Industries. He was likely getting a commission from anything I bought.
Do: Take the three-wheeled auto rickshaws. A cross between a Smart car and a golf cart, they run on natural gas to cut smog. They're cheap, even at foreigner prices. In Delhi, I paid US$1 to US$2.50 per ride. The rickshaws have no seatbelts and in a heavy thunderstorm, the driver rolls down tarps to cover the open sides. Expect a thrill a minute as the driver squeezes between cars and animals.
Do: Eat joyously, but carefully. We stuck to top-rated restaurants, where we ate wonderful Indian dishes. We drank only bottled water. Still, my husband got a very bad stomach bug.
- AAP