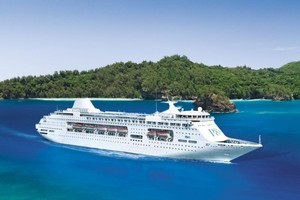 Broken toilets, faulty latches on cabin doors and leaky ceilings are among new complaints by passengers on the liner Pacific Pearl.
Walter Florussen said he was appalled by the facilities on the P&O ship - which recently underwent a $100 million refurbishment - during a three-night trip with his wife, Jeanette, that left Auckland last Thursday.
He said that for five hours there was no running water in their suite or in the public areas after the ship encountered stormy weather on the third day of the cruise. The water failure followed a night when toilets were not working.
"No information was forthcoming from any staff member."
Mr Florussen said they were not offered drinking water and could not have a coffee at the cafe because water reserves had been used up and it was impossible to refill the coffee machine.
The bad weather also caused water to leak through ceilings in their suite and in the ship's main stairwell.
He said he understood weather was out of P&O's control but the poor quality of facilities and their inability to stand up to the elements was unacceptable.
The latch on the balcony door of their cabin was also broken and would stay open only if a chair was jammed up against it.
"Our travel agent explained that despite the fact the ship was 25 years old, the suites had undergone a major refurbishment. Obviously I'm unhappy with what should have been a wonderful travel experience," said Mr Florussen.
P&O spokesman David Jones said the company had investigated complaints of toilet blockages and found cases where objects such as paper towels, tampons and hand towels had been flushed.
"When a blockage such as this happens, it can have a knock-on effect elsewhere on the ship."
Mr Jones said it was unlikely bad weather caused the toilet failures.
Yesterday the Herald reported that P&O is investigating how a 3m chandelier fell three storeys into a cafe area on a voyage.
The 63,500-tonne liner was relaunched in Auckland in December.