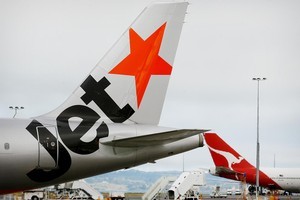 A cutprice airfare war has erupted on the Tasman, and some flights are now as cheap or even cheaper than the taxi fare to Auckland Airport from the central city.
Travel industry experts said yesterday airlines were trying to encourage bookings to fill flights during quiet periods.
Some said sales had been picking up as New Zealanders recovered from the recession, and discounts were a good way to get those who had not travelled during the economic crisis to plan a trip.
The latest sales end by tomorrow unless sold out earlier - some end today - and are for travel between February and June next year, depending on the destination.
Flight Centre this week advertised a one-way Auckland-Sydney fare, flying Emirates, for $89.
That deal ended on Tuesday but Emirates is offering a $174 fare until tomorrow.
Jetstar has a $99 fare on the same route, and an $89 one-way deal between Auckland and Gold Coast. These deals end at midnight tonight.
Some of these fares are cheaper than the cost of a cab from Auckland's airport to the central city and beyond, which can cost anywhere from $60 on a good day to $100 in rush-hour traffic.
Jetstar spokeswoman Andrea Wait said the $89 flights to the Gold Coast were the lowest Tasman prices the company had offered for some time.
She said the sale was to mark Jetstar's 5th anniversary of flying the Tasman.
The company is also advertising $99 flights from Auckland to Melbourne and $149 flights to Cairns.
Cheap tickets are not only being offered on flights to and from Australia.
Pacific Blue is advertising bargain fares to Pacific Islands, which airline spokesman Phil Boeyen said were a popular holiday destination for many New Zealanders.
"It's a great time for people to thinkabout their travel plans beyond Christmas," he said.
House of Travel retail director Brent Thomas said New Zealand's appeal as an international destination meant many airlines flew here.
The airlines had to return aircraft during times of slow demand, so travellers wanting to leave New Zealand often benefited from specials, he said.
Mr Thomas and Flight Centre national product manager James Brooker said New Zealanders were travelling overseas more than last year.
Mr Brooker said airlines were aware of the renewed interest in travel, and were competing for passengers with "early bird specials".
Emirates' manager for New Zealand and the Pacific Islands, Chris Lethbridge, said trips to Australia were in high demand during school holidays and for major events including rugby games, but at other times travellers needed an incentive.
Emirates' sale was "to encourage some early booking at times when we're anticipating that the loads might be a little bit lighter than the peak season".
Alert Taxis managing director Robert Van Heiningen said most flights would cost more than a cab ride to the airport, and thought that paying $100 for such a trip was a "little heavy".
"Under normal circumstances, it shouldn't be anywhere near that."
Fares were charged based on the distance travelled and the time the journey took, and were most often between about $50 and $70, he said.