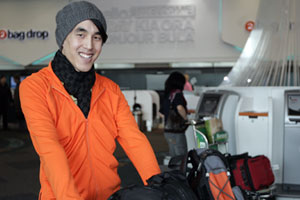 A jobless jetsetter is snapping up dozens of Air New Zealand's $1 Grabaseat fares - so he can earn enough Status points to gain gold flyer perks.
Unemployed Lindsay Kum has flown to Hong Kong and Los Angeles for just $1 plus tax, as well as all over New Zealand after snaring specials online.
The 24-year-old has also jetted to Cairns in Australia, Wellington and Christchurch, and his latest adventure was a whistlestop trip to Queenstown last weekend.
"I just went for six hours," he says.
The Aucklander has 20 more flights booked before August by which time he will have enough Status points - different from Airpoints - to qualify as a gold flyer, and enjoy the VIP treatment that comes with it.
Perks include access to luxurious Star Alliance airport lounges around the world and extra baggage allowances.
Best of all, he gets two free upgrades, meaning he will be winging his way to London next year on his OE in premium economy class.
Grabaseat marketing manger Sunil Unka says he is keeping a close eye on Kum's globetrotting antics.
"People feel like they have won the lottery, especially with the $1 seats, so for him to be able to successfully grab as many seats as he can, then all the best to him."
Unka said the airline is hearing more about serial Grabaseat-ers.
He met a group of student flatmates in Dunedin who make it their mission to grab as many bargain seats as they can.
They once bought 10 $1 flights from Dunedin to Christchurch and had a competition to see who could hitchhike home the fastest.
The group has a roster to ensure the website is always monitored.
In Nelson, theology student Kate Dugdale has spent $38 on flights worth around $2800.
Like Kum, she can fly midweek, avoiding the popular weekend dates.
Both Kum and Dugdale say speed is key.
They are logged into their Airpoints account so most of the fields are already filled out when they go to book.