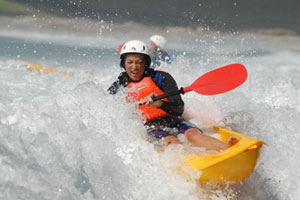 When you're halfway up a rockface, 20m above the ground, it somehow doesn't feel quite right to be reaching for your next handhold with fingers tipped with purple-coloured artificial fingernails.
It wasn't the realisation of how absurd those acrylic nails looked that caused me to panic, but for a moment I was so freaked out that if I'd had mobile phone reception I think I'd have called my Mum.
The aim at the Sir Edmund Hillary Outdoor Pursuits Centre on Great Barrier Island is exactly that - throwing you out of your comfort zone. In the space of just 36 hours I swam inside sea caves, sacrificed my sunglasses to the ocean, got a blister on my hand from a kayak paddle, had a minor boating breakdown, and that freak-out halfway up a cliff.
Things didn't look so scary when I arrived and teamed up with another of the group for our first expedition, paddling to Green Island in two-seater kayaks.
After paddling the tranquil 2km journey across clear, deep water to the island, our next challenge was to go coasteering - rock-hopping and jumping into water - all the way round its rocky coastline.
We were slightly nervous, having been warned that this exercise usually results in someone ending up bleeding because of scratches from rock oysters. Clad in wetsuits we clambered across rocks to leap into swirling waters which our guide, Nick, reckoned is "a good giggle".
We leapt off one rock to swim into a cave. As the waves rolled in, we surged upwards towards the cave ceiling. Then we swam out again to make the 4m leap from a ledge that looked much higher once were were on it than it did from the sea.
It was an adrenalin-filled afternoon, though not nearly as scary as the rock climbing. I'm not sure why it got to me, but while leaning out to grab a tiny piece of rock with a steep valley dropping away beneath me, I didn't like the feeling of knowing that a harness and a couple of carabiners were my only safeguard.
On the other hand, I'd happily go back again for the wave-surfing, catching waves while sea-kayaking on a stunning white sand beach.
And during the weekend I also had one of those rare and special moments only nature can select.
We were heading by boat to the Fitzroy Boat Club for a meal and a beer when our motor stopped suddenly. We looked up to see Colin - a Barrier legend - heading to the pub in his boat to watch the rugby league and he towed us the rest of the way.
On the tow home, things turned magical. I didn't know whether to look up or down at the shimmering sparkles that surrounded us. The white swirl of the Milky Way was shimmering above. And beneath us a glowing wake flowed from Colin's boat, setting off a sequence of sparkling flashes, as phosphorous lit the waves breaking around us.
The mix of terror and magic made for a remarkable experience.
The Outdoor Pursuits Centre on Great Barrier mainly caters for students on school camps, or corporate clients who want to challenge their staff, but anyone looking for adventure can hire its kayaks and other adventure equipment, charter the centre's new boat the Lady Hillary or employ the services of its qualified guides.
The object is to provide the inspiration to allow participants to extend themselves. In fact, if another weekend out there meant getting back up on that rock, I'd do it. But I might get my fingernails fixed first.
CHECKLIST
Getting there: Great Barrier Airlines and Fly My Sky offer daily flights, with adult fares from about $89.
Fullers and Sealink also offer ferry services, with adult fares starting from about $69.
Outdoor pursuits: The Sir Edmund Hillary Outdoor Pursuits Centre Great Barrier Island is contactable at (09) 429 0762.
The centre operates in conjunction with the Orama Christian Community. It used to be a rehabilitation centre and a no-alcohol policy is still in place.
Further information: See thebarrier.co.nz or greatbarrierisland.co.nz.