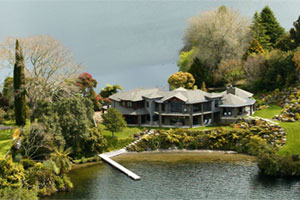 Forget Paris or Venice if you're looking for the most romantic place to propose to your lover this Valentine's Day.
Rotorua's Lake Okareka Lodge has been named one of the top 10 places in the world to propose on Valentine's Day in a list of the most romantic destinations released by US-based HotelsCombined.com, the world's largest online hotel search engine website.
Lake Okareka Lodge manager Diana Moore said she was not sure how the website chose the lodge.
It could be based on a number of factors including the five-star lodge's growing reputation in international luxury travel markets and the awards it had received, including the world's Best Country House title in the 2009 World Luxury Hotel Awards, she said.
Positive publicity the $8000-a-night lodge had attracted around the world in international travel publications and travel blogs, and feedback from guests and travel writers who had experienced the lodge first hand, could also be factors.
Ms Moore said there had been a few proposals at the lodge. One man wrote his proposal in the sand for his girlfriend to see as they flew over in a helicopter. Another had the engagement ring hidden in the dessert.
Although famous people, including Steven Spielberg, had stayed at the lodge, none so far had used their stay to propose to their beloved.
The lodge had also been used to celebrate wedding anniversaries, birthdays and other special occasions. Some guests had been serenaded by singers and rose petals scattered in baths.
The lodge was chosen as one of the top 10 places to propose on Valentine's Day for its privacy - it is booked out only to a single party of up to nine people.
Ms Moore said she could not reveal if there was anyone popping the question at the lodge this Valentine's Day.
"Absolute discretion and secrecy about our guests are vital elements in operating one of the world's most exclusive lodges, so my lips are sealed."
For more articles from this region, go to Rotorua Daily Post