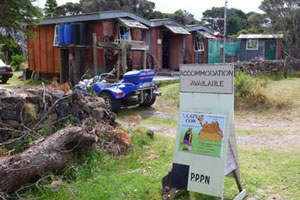 Rumbling uphill in Tony Bouzaid's troop-carrying Unimog is a noisy, bumpy and diesel-fumed operation. We foot soldiers in the back of the ex-army all-terrain vehicle hang on stoically, dodging branches of kanuka and punga which whip in the open sides of the truck and get a pruning-by-Unimog on the way.
Our commander at the wheel has the steely gaze and set jaw of a Man On A Mission.
The war with rats and wild cats has been going on for 18 years as Tony and wife Mal spend their 'retirement' battling to create a sanctuary for endangered birds, lizards and insects on the Kotuku Peninsula in Port Fitzroy, Great Barrier Island.
This winter a $600,000 predator-proof fence was completed at the base of the peninsula. Rats and cats trapped inside were poisoned. In theory, the rare North Island robins, black petrel, kaka, pateke (brown teal duck) and chevron skink (our largest lizard, found only on Great Barrier) should be safe for ever more.
But yesterday, rat footprints were found in one of the tracking stations set up in the bush.
The pest might have sneaked around the fence at Karaka Bay. A short extension to the already two-kilometres of fence - funded by government grant, fund-raising and private donation - is needed.
"We have to build it. It simply has to be done."
There is no money left.
In the meantime, the lone - we hope - rat will be lured with poisonous bait.
Twenty-five North Island robins were released earlier this year at Glenfern Sanctuary, as the Bouzaid property (one third of the 230ha peninsula) is called. They were brought from Tiritiri Matangi, the Hauraki Gulf's most celebrated sanctuary. Hopes are high for this batch which replace an earlier release of robins wiped out by storm and rats in 2007.
Walks in Glenfern Sanctuary, often guided by Tony with his Unimog, or by another member of the internationally-successful Bouzaid yachting family, are one of the must-do attractions of The Barrier.
There are also excellent self-guided DOC walks through native forest, rocky canyons and pristine coastline. The 40-minute stroll to the Kaitoke hot springs is among the most popular.
Our group has arrived by Sealink car ferry, sharing the four-hour journey with a stag party complete with groom-to-be in tutu and fairy wings. Among them, an oversized chap who seems to be called Elephant Man presents one of our party with his business card and his pick-up line: "I'm different," he offers. "Call me and you'll find out why."
She is not tempted, though Elephant Man might fit in well at The Barrier.
Unusual characters among visitors can seldom match the Barrier locals who are known for eccentricity and pioneering spirit.
We spend an enjoyable hour with Sven Stellin, a born and bred islander with pants held up by bungy cord and a way with words.
"Prison or paradise here, depends on the day," he tells us as he introduces his 'propaganda' to sell his wares.
Sven's days are spent extracting manuka and kanuka oil in a Heath Robinson-style solar-powered steam contraption at his remote (you need to arrive by boat) property in Port Fitzroy.
All manner of soap, balms, insect repellents and oils are offered under the banner Barrier Gold, and Sven says he will not run out of raw material in a hurry. He owns 800 hectares of land.
People are adaptable on Great Barrier, where farming is now way behind tourism as an income-earner. The 750-strong population fit their lives around the 30 per cent of the island not controlled by the Department of Conservation, and everyone is a jack-of-all trades.
Our tour guides, Steve and Lianne, not only show us the island, rent cars and vans, and take 'crazyhorse' tours on a motor-trike, but they become check-in clerk and baggage handler for a local airline whose pilot usually covers those chores as well as flying the plane.
A night out in Great Barrier might take you to the blink-and-you-miss main town of Claris, named for a local who developed the airport but was killed in a flying accident there. In the ironic Barrier style, Claris is known as Gay Claree.
There is no reticulated electricity on Great Barrier so everyone generates their own - mostly through diesel-powered generators and solar panels, although one bush-dwelling man assures us he has a steam generator capable of heating water enough for eight outdoor baths. He has them dotted in strategic spots around his property to offer sheltered use in all winds.
Even the local doctor is a multi-tasker. He is also a church minister, so locals say "If Dr Howie can't cure you at least he can bury you."
SUGGESTED WEBSITES
* greatbarriernz.com
* greatbarrierislandtourism.co.nz
* sealink.co.nz
* glenfern.org.nz
* barriergold.co.nz
* greatbarrierlodge.com
* sunsetwaterfrontlodge.co.nz
* shoalbaylodge.co.nz
* mountstpaullodge.com
- MY GENERATION