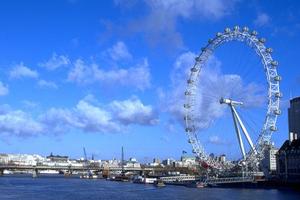 Travellers and savvy online shoppers are cashing in on the New Zealand dollar's recent strong performance against the British pound and the US dollar.
In February the kiwi dropped below US50c for the first time in six years but it has since staged a remarkable recovery, hitting a 15-month high of US74.90c last Thursday afternoon.
The pound, which has for years remained remarkably strong against the kiwi, has also tumbled, hovering around a post-float high of 46p for much of the past month.
And while the strong dollar may be a nightmare for exporters, those planning an overseas holiday could find their budget stretching further when they take in the sights of the US and Europe.
Exchange rate fluctuations since January of this year mean visitors to London are now paying $12 less than they would have in March to take a spin on landmark ferris wheel the London Eye.
Similarly, a visit to the Empire State Building in New York is now $12.75 cheaper for New Zealand tourists than it was in February.
The basic entry price to the Big Apple's famous skyscraper is US$18.45 but a ticket to the 102nd Floor Observatory costs an additional US$15. At February's exchange rate the two tickets would have set travellers back $68.25; this week the same package would cost just $45.15 - a saving of $23.10.
The euro has held its value against the kiwi better than some other currencies but even travellers to mainland Europe are better off now than they would have been in March when NZ$1 bought just €0.39.
Back then, a trip to the top of the Eiffel Tower would have set Kiwi tourists back $33.15; yesterday that same outing would have cost just $26.15.
But it's not just those heading overseas benefiting from the high dollar.
An nzherald.co.nz comparison of online shopping deals shows people buying music or books would do well to look at international websites.
Masterton-born singer Ladyhawke won a swag of Tuis at this month's New Zealand Music Awards but it's more than $10 cheaper to buy a CD of her self-titled album from amazon.co.uk or amazon.com than it is to buy it from a locally-based online music retailer.
To have Ladyhawke delivered to your home currently costs $33.99 at marbecks.co.nz and $27.45 at realgroovy.co.nz but just US$12.43 ($16.70) at amazon.com and £7.53 ($16.20) at amazon.co.uk.
Dan Brown's new novel The Lost Symbol is also markedly cheaper if ordered from overseas, with both amazon.com and amazon.co.uk charging less than $30 to deliver a hardback copy to New Zealand.
The best online price for the same book from a New Zealand-based online retailer was $35.96 at fishpond.co.nz.
Margins on DVD sales appear less affected by the strong dollar, with local retailer mightyape.co.nz offering a copy of the movie Marley & Me for $24.48 delivered. That price was cheaper than amazon.com's offer of $27.25 and only marginally more expensive than amazon.co.nz's price of $24.30.
* The high and low NZ dollar figures were found by comparing exchange rates across the period from January 1, 2009 to October 15, 2009. Prices have not been adjusted for inflation.
Online shopping comparison
All prices are in New Zealand dollars and include delivery charges
CD: Ladyhawke by Ladyhawke
On amazon.co.uk: $16.20
On amazon.com: $16.70
On realgroovy.co.nz: $27.45
On marbecks.co.nz: $33.99
DVD: Marley & Me
On amazon.co.uk: $24.30
On mightyape.co.nz: $24.48
On amazon.com: $27.25
On dvdvideo.co.nz: $39.99
Book: The Lost Symbol by Dan Brown (in hardback)
On amazon.co.uk: $26.40
On amazon.com: $28.50
On fishpond.co.nz: $35.96
On warehouse.co.nz: $40.98
On whitcoulls.co.nz: $51.95