Kids want to rough it, but you'd rather go four-star? Try a Top Ten Holiday Park, says Diana Clement.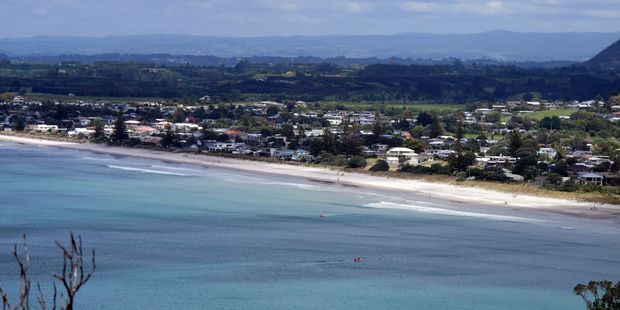 "Mummy, I've met some really nice boys in the playground and they've invited me to have dinner with them." We'd only been at the Waihi Beach Top 10 Holiday Park for two hours, so I headed off to find out who these boys were and if they'd really invited my 5-year-old son for dinner.
Ten minutes later, we were all seated outside Dion and Sue's caravan, sharing dinner and a glass of wine. It was typical of the friendliness that pervades Kiwi camp grounds.
But when I say "camp ground", let's be clear. I wasn't staying in a tent or a shabby old cabin. This was a Top 10 Holiday Park and we were living it up by "camping" standards in a modern motel-style unit resplendent with heating, comfortable beds, bathroom, Sky TV and well-stocked kitchen.
Out of our unit, the camp ground had an awful lot to keep the children entertained: a giant jumping pillow, playground, games room, carts, giant outdoor chess game, sauna, gym, heated swimming pool and spa, under 5s' play room and a 42-inch screen in the main TV lounge.
So self-contained was this holiday park that I actually had trouble dragging my kids the 50m to the beach itself - a 10km stretch of unspoiled white sand that stretches from the Waihi Beach Surf Club at one end to Bowentown at the other.
Truth be known, I'm a bit of a Top 10 Holiday Park junkie. I know when I book that the toilets will be clean, the kitchens modern and the facilities relatively new.
We also enjoy rough camping. But modern, well-equipped camp grounds accommodate the children's love of the freedom with my desire for a few home comforts.
Unlike some Top 10 parks, which have been purpose-built, Waihi Beach's camp ground has been attracting campers since 1899. Back in the old days, the toilets were a rather basic army latrine-style affair and the women cooked over wood-burning ranges in the cookhouse - a far cry from today's modern camp kitchen with under-floor heating.
Generations have camped at Waihi. One camper, Des Reynolds, has been returning since 1934, right up until this year. The dances of the 50s are legendary, as are the New Year's Day sports day run by the surf club.
Waihi Beach's camp ground is still a family-oriented place. Kids wander relatively freely, making new friends or catching up with old ones they met on the previous holiday. Many of the campers own their own static caravans, returning weekend after weekend with their families.
One thing that hasn't changed is the camp ground's eel-laden creek. On the first day, armed with a chicken carcass, my children were able to lure a tangled mass of eels on to the bank.
At the height of summer and also Easter, camp ground owner Ian Smith puts on a kids' programme designed to give parents some time off. Six days a week there are two hours of craft and other activities in the morning for 3 to 8-year-olds and, in the afternoons, there's sandcastle building, bush walks and scavenger hunts for older kids.
The camp ground's latest attraction - opened by Prime Minister Helen Clark the day before we arrived - is the heated outdoor swimming pool and spa. The pool is heated to 28C, which makes it comfortable for swimming all year round. The outdoor spa pool is considerably warmer and that's where I plonked myself for lengthy periods of time. Both pools are heated with the help of enormous solar panels.
What has changed for the better at most beach resorts these days - and Waihi Beach is no exception - is the selection of eateries. At Waihi Beach, Flat White, Hot Pipi and The Deli all do a good coffee. For dinner, we barbecued slabs of meat back at the camp ground on the first two nights and had dinner at Flat White on the third. Delicious.
Also open in the evenings is Cactus Jack's, which looks like a Tex Mex sort of place, but serves good old Kiwi food. The owner, I'm told, is the restaurant equivalent of Supernanny - turning unruly kids into delights to dine with.
As far as excursions go, there are more than enough to fill a few days. We took a trip on the Goldfields Railway - a turn-of-the-century train that still plies the 40-minute stretch of track from Waihi township to the start of the Karangahake Gorge. The line winds its way through farmland to the historic Waikino Station, where there is a short stop for coffee and ice-cream before the return trip.
Back in the Waihi township we stopped by the Martha Mine for a look - completely unaware of what a staggering operation this is. The open-cast mine, which produces $1 million worth of gold and silver a week, is 250m deep. We were just a few hundred metres from the centre of Waihi staring into the most colossal hole I'd ever seen in my life.
Back in Waihi Beach, we decided to take the 2km Orokawa Bay walk. The easy track winds its way around headlands, with breakers crashing into the rocks far below. The prize at the end is the spectacularly unspoilt Orokawa Bay. From there, if you're keen, it's possible to walk inland to the William Wright Falls or further north to the equally picturesque Homunga Bay.
IF YOU GO
Where to stay: Waihi Beach Top 10 Holiday Park, phone (07) 863 5504 offers camping, park motel suites and cabins with kitchens.
Where to eat: Flat White Café in Waihi Beach.
What to do: Check out Karangahake Gorge, or Martha Mine.
Further information: See waihibeachinfo.co.nz and waihi.org.nz.
Diana Clement was guest of Waihi Beach Top 10 Holiday Park.