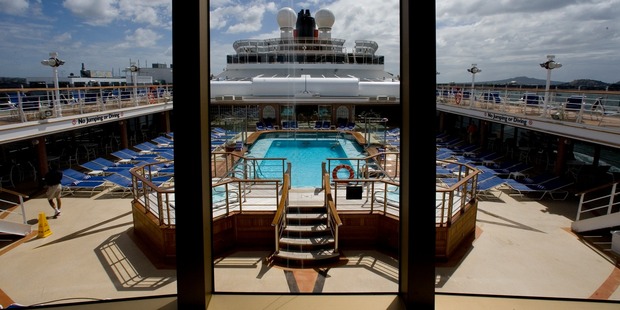 When Captain Paul Wright, skipper of the Cunard Line's newest liner the Queen Victoria, was asked by his school guidance counsellor what he enjoyed doing, he responded "looking out the window".
The sage educator told Wright he'd never find a job doing that, but as luck would have it, that's exactly what fate had in mind.
Standing on the bridge of the 90,000 tonne liner, he laughed as he recalled the story and thanked the weather gods for "giving the rain a break" during the ship's one-day call at Auckland's Princes Wharf.
Despite vast panels of controls at the touch of a hand and two comfortable-looking navigators' chairs, Wright said he tended to pace while on the bridge instead of watching the world go by from a seat.
"I'm a bit old fashioned in that way," he confessed.
His impressively opulent charge however, launched in Southampton by the Prince of Wales just two months ago, is anything but.
As one of three "Queens" in Cunard Line's stable, the Queen Victoria harks back to the golden era of travel while incorporating all the modern comforts today's cruise clientele have come to expect.
Art works worth more than two million dollars - including original etchings by the liner's namesake and her husband Prince Albert - adorn the rooms' walls.
In a world-first for cruise liners, the Queen Victoria also has private West End-style viewing boxes within the impressive Royal Court Theatre.
More than 2000 guests can be accommodated in the $754m ship's 1000 bedrooms, 70 per cent of which have balconies that afford sweeping views.
And unlike her predecessors, the Queen Victoria has an impressive manoeuvrability.
"It's different from the QE2," said Wright.
"She (the QE2) goes backwards and forwards very well but that's about all she does."
The Queen Victoria, by comparison, can turn on its own length and seldom needs tug boats to help guide it into port, he said.
Following her early morning arrival in Auckland, the Queen Victoria is due to depart at 5pm for Napier, before continuing on to Wellington and then Australia.
In Sydney spectators will be able to view the end of an era as two of the world's great cruise liners - the QE2 and the Queen Victoria - pass by one another for the last time.
The QE2 on her final voyage... and the grand, new, younger sister on her maiden round-the-world trip.