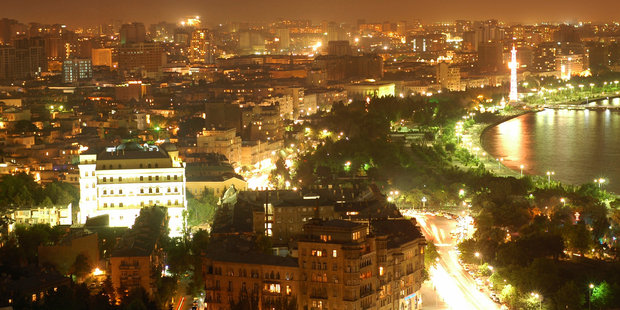 A fan is wafting damp, warm air through the plastic tendrils of the artificial plants that festoon the roof of the internet club in Baku, Azerbaijan.
Officially autumn is here but it is 35C outside and the Caspian Sea is limpid, shimmering in the heat.
On the way to the cafe a bright yellow Humvee, like a bad boy bumble bee, passed by, followed by a succession of BMWs, Mercedes and four-wheel-drives.
This is an oil boom city and just as black gold is oozing from the seabed, money is now oozing out of the city's pores.
Once, at the turn of the 19th century these oil fields provided almost half the world's supplies - now it is much less but there's enough oil under
Azerbaijan's part of the Caspian Sea to ensure it has plenty of friends in high places. English and American accents ring around the hotel lobby each morning, and I shared a lift with two Nigerians - more oil men.
I can see an oil rig from my hotel room. I'm nine floors up - it wasn't the ideal place to learn that a few days ago a 16-storey building under construction nearby collapsed, burying several workers underneath the rubble.
The oil has created a building boom but standards are somewhat lax - this was not the first building to crumble. Apparently the locals prefer to buy (if they can afford them) Soviet-built apartments - ugly but built to last.
This is a place of cultural and political collisions - the remnants of Persian conquest; the Soviets and more; the benign (for now) collision of Asia and Europe; and the on-going scars of conflict with neighbouring Armenia.
The two countries are not on speaking terms, relations with Russia and Iran are also strained. It is in more ways than one today - a hot spot.