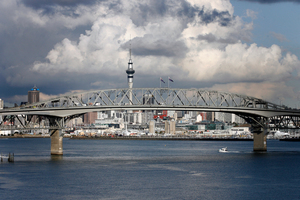 No one seems to doubt Auckland will need another harbour crossing to the North Shore within a generation. The chances of it being another bridge are dwindling but plans for a tunnel under the Waitemata are cautiously being progressed. Too cautiously, in the view of former North Shore mayor and current Auckland Council member George Wood. He has half a point.
Mr Wood believes transport planners ought to be engaging now with community groups as they move to protect a likely route for a tunnel or tunnels east of the harbour bridge. The Auckland Council 30-year plan favours the tunnel option with provision for a rail line to future-proof its capacity. Since that plan's publication, the Transport Agency has said it would base any application to the council next year for route protection on that premise, despite its judgment that no crossing would be required until 2030.
In Mr Wood's view, growth in Auckland's northern sector could require another crossing to be possible much earlier than that.
He believes the longer timeframe being adopted by the agency has led to complacency and "drift" in what is a vital infrastructure decision. With six major studies since 1986 into the need for the extra crossing, he believes communities are ready now to begin definitive talks.
On one level he should hold little fear. The Transport Agency has proven in this era of big-ticket Auckland road building that it can take on projects and deliver them on budget and ahead of time. The Mangere Bridge and Newmarket Viaduct upgrades, as well as early work on the Waterview extension of the western ring route, should give confidence in the agency's capabilities. New measures in the Resource Management Act mean "drift" due to objections and deliberate delays can be overcome by direct court hearings. That most parties seem committed now to a tunnel, with rail a possible component, means the opposition should be de-fanged. So the 27 years of talk so far will not have been for nought and once the political and economic will is there to approve the new crossing it should not be bogged down as was likely in the past.
The bigger threat to timing or funding for a tunnel might be any requirement that it include rail, even if it is only on paper to "future-proof" the project. The rail option would work only if the tunnel project was preceded by Auckland mayor Len Brown's push for a CBD rail link, the multi-billion-dollar tunnel pushing through Britomart station and up-town to Mt Eden. In current conditions it is unlikely both can be funded in the next decade or two even if Auckland ratepayers and motorists accept high tolling and regional charges to carry much of the burden themselves.
Aucklanders and their elected leaders need to prioritise these projects and de-couple them so that at least one is digestible. Development and liveability of the North Shore could well be harmed if the second crossing is tied to the more politically controversial CBD rail link and delayed. The National-led Government believes no such rail link is justified for 30 years: the Auckland Council sees it as a cornerstone for the city's transport, housing and economic progress.
Which is the more efficient and vital recipient of the nation's economic resources? The case is clear for a harbour crossing, only timing is in dispute. The case for the CBD rail link is persuasive but unconvincing, a costly, nice-to-have project which in theory would relieve traffic congestion and alter residential development.
Does the North Shore want or need rail in any case? The Northern Busway has been a successful public transport option and would presumably be more effective if the harbour bridge is decongested by a parallel road tunnel.