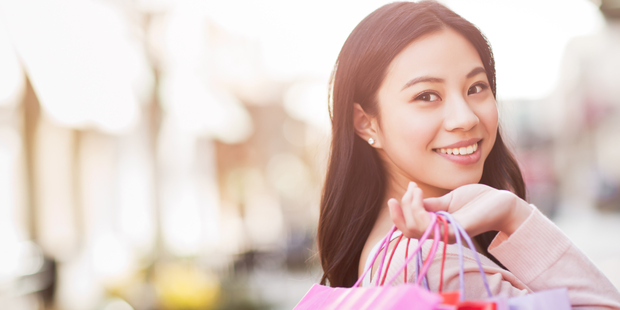 As China moves from a manufacturing-based economy to being driven by consumer spending, we ask what this means for New Zealand businesses seeking to make the most of our free trade agreement (FTA).
Critical trends to take into account include the emergence of singles and the elderly as powerful consumer groups. Unburdened by family responsibilities, singles want instant consumption and are willing to pay the price. And, unlike previous generations, the elderly are also willing to get out and spend, rather than save.
Tailoring packages specifically for these markets is a good place for New Zealand businesses to start - promoting products like holiday packages for singles and the elderly, kitchen gadgets (such as rice cookers) for individuals, and functional products for the elderly.
The better-serviced tier 1 cities such as Beijing and Shanghai are tougher to crack than emerging cities. By 2025 China will have 221 cities with more than a million people. The second and third tier cities are growing much faster than the first tiers and, most importantly, their markets are not saturated.
The food and beverage industry is a high point for New Zealand exporters, with a growing demand for organic products. This requires strict compliance with regulations and being serious about quality.
Spending on luxury goods is increasing, with the focus on health, beauty and travel. New Zealand was recently named China's top luxury destination for 2013. Those with children are not only spending on education but also on trendy and expensive clothes and gadgets.
New Zealanders are not oblivious to Chinese education spending trends. Universities, in particular, have embraced the Chinese education market with open arms but there are opportunities for more technical areas of education such as post-production and animation. Let's not forget China is looking to pass Hollywood in its film productions in the short term.
"Emotional consumption" is another important trend. From here it is near-impossible for us to tap into the Chinese market psyche. Consultation with local representatives is important to provide insights that will help target services or products.
As a by-product of this fast-paced development, the Chinese are going micro. Short books and movies are increasingly popular. Consumers are looking for quick and easy shopping online. The so-called "go-between" economy in China uses purchasing agents to source what consumers want.
The mobile phone is the most common access terminal for the internet in China. This has important implications for businesses as websites need to support a mobile browsing format, along with payments by mobile phone. Some 70 per cent of mobile phone users have smartphones and this is driving the increase in online activity.
The "go micro" craze encapsulates consumers' short attention spans: quick and easy online purchases, short movies and books, micro ads and micro rebates.
Social consciousness is also increasing. A company's participation in a charity enhances its reputation and consumers are often invited to donate part of their spending. Using celebrities to promote goods and causes is a strong builder of brand and product credibility. Added to this is our ability for continuous supply.
The traditional focus for New Zealand businesses dealing with China - such as structure and tax, Customs and VAT implications - are still critical; we are more than ready willing and able to assist with this. You can never be complacent about China as the speed of change is much faster than what we are used to. On top of this the value-add is knowing your niche and targeting the right markets within China for your particular product or service. The key takeaway is to use on-the-ground intelligence and work with experts.
Joanna Doolan is the chair of the Ernst & Young NZ China group. Florence Wong is the leader of this group.