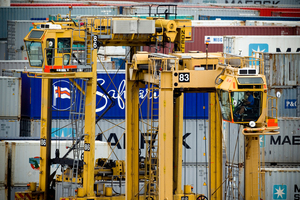 The trade accounts improved last month, with exports exceeding imports by $486 million.
It still left the balance for the year at $1.2 billion in deficit, as imports outstripped exports by 2.6 per cent.
That was advance on annual deficits of $1.4 billion in November and October, but a $2 billion deterioration from the $800 million trade surplus recorded in 2011.
Dairy export volumes improved last month for the second month in a row, following three months of decline, to be up 14 per cent on December 2011.
"However, if the dry conditions in the North Island persist, poor grass growing conditions and high feed costs could limit this season's production performance," ASB economist Jane Turner said.
Exports of manufactured goods were 11 per cent down on December 2011.
Imports were 10 per cent or $400 million lower than in December 2011, but almost all of the decline is explained by lower crude oil imports, which swing around on a monthly basis due to the timing of shipments, and a $175 million drop in imports of aircraft and parts.
Bank of New Zealand economist Doug Steel said that if you looked at the December quarter as a whole, removed the large one-off items and adjusted for exchange rate movements (a 7 per cent appreciation), imports were more than 7 per cent higher than a year ago.
"This suggests the economic recovery is continuing," he said.
Turner said that over the past year export performance had been mixed.
"The dairy sector has performed well, but largely from a volumes perspective owing to a good end to the previous season and a promising start to the current season," she said. "Dairy prices have come under pressure over the year, but we judge that they have now stabilised and should start to lift over the coming year."
Manufacturers, by contrast, had faced waning demand from Australia and the United States.
"We expect trading partner demand to pick up over the coming year. However, we also expect the New Zealand dollar to remain elevated, acting as a headwind for many exporters."
But with improving domestic demand likely to underpin stronger import growth, on balance ASB expects the growth in exports and imports to largely offset each other and for the trade balance to stabilise.