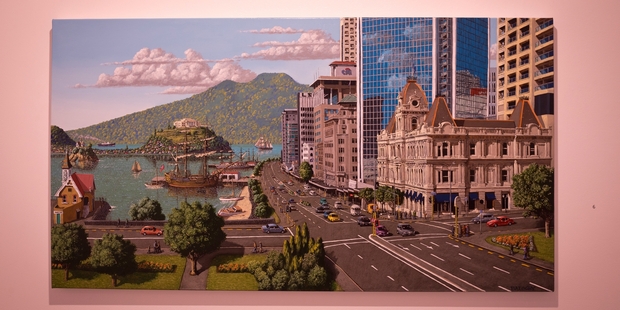 Realism in art usually suggests the depiction of recognisable objects. Two shows this week, one of painting and one of sculpture, both show instantly recognisable things yet the effect of each show is totally different.
Joe Sheehan, whose carving is at the Tim Melville Gallery, came to prominence when he began carving in greenstone objects as simple as a light bulb, cassette cases and even secateurs.
This exhibition is made up of four works, each a large museum-like drawer containing more than a dozen pieces carved from stone such as greywacke, basalt and argillite. They can all be carried easily because they represent, true to scale, mobile phones and TV controls. Some small pieces are not the whole device but just the patterned cover that slips off when batteries need changing. The carving is done with marvellous skill.
The effect is made fascinating and sculptural because the patterns of keys and controls are at times raised and at others are cut deep in the stone.
In many of the pieces much of the material where it is not highly polished is left in its natural state so the work looks like a fragment of the original object.
The most effective are the ones where the unpolished stone appears to be shaped by the same kind of flaking that was used in Stone Age cultures to make weapons and tools. Others have something of the shape and polish of adzes and hand weapons and the reference is Polynesian culture. The overall effect is to make the display seem like cases of artefacts that are immensely old.
It raises the thought of how objects like this might be found and valued as archaeological treasures in some distant future. It also suggests the speed with which objects such as handpieces change rapidly with advances in technology. In this show Sheehan has gone beyond the plain curiosity value of his former work because there is such rich food for thought in every piece, giving them symbolic value beyond the representational skills of their making.
At Artis Gallery George Baloghy has made his representational skills the servants in portraying buildings, landscape and people to convey a witty and appealing vision. The show, called Magic City, is a vision, playing great games with buildings, time and space. The buildings are all edifices familiar to Aucklanders. In St Stephens Island the familiar tiny Parnell church is on a wooded island linked to shoreline cliffs by a smaller version of Grafton Bridge.
The island has a small jetty, possibly used for access to Bean Rock lighthouse, which has moved closer to shore and guides a full-rigged clipper ship to safety in front of Rangitoto. The familiar skyline dominated by the Sky Tower is in the background. The sheer amount of detail is extraordinary and very accurate.
This accuracy of detail extends to the large, ornate, balconied colonial villas from Ponsonby Rd and Herne Bay that feature in several of the paintings. The artist takes particular delight in those that have a belvedere as a lookout. The Ferry Buildings and the museum also play a large part. In one case the museum is transferred to North Head, where it looks very fine.
In the harbour are ships from medieval caravels to ocean liners. Lord Auckland has a statue on top of a column borrowed from Trafalgar Square. The outstanding painting is Maritime City because it is more than simple fancy in that it suggests how Auckland might well have developed.
In the past when Baloghy has painted some quirky building it has often soon after vanished without a trace. A variation on this effect is The Corner Shop. It shows a red and green building on Mt Eden Rd that has been partly restored and extended, changing it from the architectural oddity known to several generations. The show has limitations. Only an Aucklander can catch the full flavour and it lacks something of the dream-like intensity of truly surreal works. But it gives great delight.