He had quite a moment with 12 Years a Slave and he's been making a sci-fi film in New Zealand but Chiwetel Ejiofor isn't done with history yet. He talks about his next moves to Bridget Jones.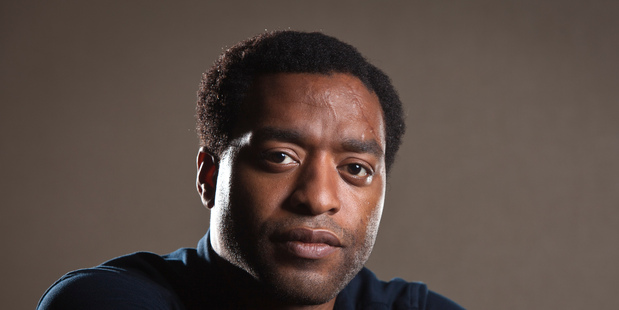 Timing is a funny thing. Completely out of our control, yet one moment can change everything.
Take Chiwetel Ejiofor for example. This time last year, the British actor was far from a household name. Yes, he had appeared on stage and screen for almost 20 years. You may have even recognised him from Love Actually - the one whose best friend was in love with his new bride. He had stolen scenes from bigger, more bankable stars over the years and his performance as Othello on the London stage was regarded as one of the finest. But Ejiofor was still waiting for that moment.
Fast-forward 12 months and he has it; thanks to the critically-acclaimed film 12 Years a Slave, the spotlight has found him.
Among the 70-odd acting nominations he amassed for his portrayal of Solomon Northup, a free-born African American who was kidnapped and sold into slavery before regained his freedom 12 years later, the biggest was his first Academy Award nod. He lost to Matthew McConaughey, but the film was named Best Picture and Ejiofor went home with a Bafta and multiple critics' choice awards for his role.
"This year has been pretty amazing," the 36-year-old says from his Los Angeles home. It's the kind of awe-filled understatement you hope to hear from someone who has worked hard for success.
And who keeps working. He has recently finished filming the post-apocalyptic blockbuster Z for Zachariah in Canterbury with tabloid darlings Chris Pine and Margot Robbie. He showers New Zealand with glowing praise, words like "beautiful" and stunning", but is coy about the movie itself. All he'll say is that, from what he has seen, it looks impressive.
Then there are the 007 rumours. Hotly tipped as the next Bond villain, it looks like Ejiofor might just follow in the footsteps of Goldfinger, Dr No or Blofeld in creating a piece of pop culture history. Many seem enamoured with the idea. Except, one points out, it means he could never play the suited spy himself.
If it's true, he'd be picking up where Javier Bardem left off as the horrifying Raoul Silva in the most recent instalment, Skyfall. It had a budget of close to $229 million - a far cry from Ejiofor's latest film.
Half of a Yellow Sun was made in Nigeria for just $8 million. That's a modest budget by Hollywood standards, but it's said to be the most expensive Nigerian film to date. And one of the more ambitious.
Based on the 2006 novel by Nigerian author Chimamanda Ngozi Adichie, Half of a Yellow Sun tells the harrowing story of the Biafran War in the late 1960s from the perspective of sisters Olanna (Thandie Newton) and Kainene (Anika Noni Rose).
The pair return to Nigeria upon finishing their education in England, making decisions that set them on very different paths. While Kainene pursues a career as a businesswoman, falling for Richard (Joseph Mawle), an English writer, Olanna moves in with her lover, the revolutionary intellectual, Odenigbo, played by Ejiofor.
As the Igbo people struggle to establish Biafra as an independent republic, the family is caught in the horrific violence of the Nigerian civil war. It is an epic film, with Newton dubbing it the Nigerian Gone with the Wind.
This passion project was in the can well before the Bond rumours; before Ejiofor became an award show fixture, and just weeks before he began filming 12 Years a Slave, but the story hits close to home.
Born in London to Nigerian parents who fled the violence, he and his three siblings had long heard the horrors of war retold by family members who had lived through it.
"Chimamanda's book was heart-breaking; beautiful, beautifully written. And the story had a lot of personal resonance for me. It was the history of Nigeria and a history that deeply affected my family. The story in the film actually echoed my grandfather's," he says.
Ejiofor's grandfather was about the same age as the character he plays when the conflict began. He was an accountant for the mining corporation in the north of the country, but by the end of the war, had been uprooted and was escaping the violence with his entire family - including eight children.
"My mother was in her young teens when all this happened and it had a deep impact on her and other members of my family of that generation who really went through it. My family who came down to London to see the film have really responded to it and have felt it was an accurate portrayal of what was going on in this time of change; from all the jubilance of independence came the crushing reality of this incredibly blindsiding civil war."
Nigeria has not been an easy place for Ejiofor. Not only did the war affect his family, but when he was 11 his father was killed during a family trip there. Ejiofor was with him when their car was involved in a head-on crash. He still bears scars from the accident on his forehead.
But the actor was still desperate to return to Nigeria to shoot the film. He says he and director Biyi Bandele had spoken at length about making a big budget movie in the home of Nollywood - Nigeria is the second-largest producer of films in the world, after India, with around 50 movies per week. Most though are made on much smaller budgets than Half of a Yellow Sun, and go straight to video.
However, all the money in the world wouldn't have made the shoot a simple affair. Much of the production took place in very remote areas of the country - one location was accessible only by boat.
And there were further problems when Newton and Bandele both contracted typhoid, while other cast and crew had malaria during filming.
"Going out to Nigeria and shooting in those remote places really gives this film a certain quality that I don't think we could have captured in the studio, or another country, frankly.
"It was tough, but it was very exciting. And we pulled through, thankfully. We just dug in and got it done."
They had to because Ejiofor had other commitments looming. Once filming wrapped, he flew directly from the Nigerian set to Louisiana for Steve McQueen's 12 Years a Slave. The timing may have been tight, but the actor says it gave him a level of preparation that connected him even further to the Oscar-winning film; a feeling amplified after spending time at the Nigerian slave museums in Calabar.
"Obviously they are very different stories, but they share similar ideas. A lot of the people who were taken from there ended up at the port in New Orleans and the plantations in Louisiana. Taking that exact kind of route, the reality of it really hit home and the cultural connection of both stories was so incredibly strong - it's everywhere around you. It was amazing."
Who: Chiwetel Ejiofor, the star of 12 Years a Slave.
What: Half of a Yellow Sun
When: Opens at cinemas on April 24.
- TimeOut