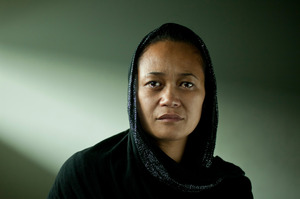 Prayas has established an authentic community based theatre that offers a rare opportunity to experience the vigorous folk culture that sustains India's performance traditions.
This hard-hitting adaptation of a contemporary Bengali novel reminds us of the on-going struggle for social justice in India while providing a sharp antidote to the frothy fantasies of Bollywood.
The show plunges us into the harsh, crowded environment of a rural village where grinding poverty has created a callous, mercenary culture in which every aspect of life - even mourning for the dead - is conditioned by financial considerations.
The daily struggle to survive engenders all sorts of petty hatreds and abusive family relationships but the production also conveys the mischievous humour and irrepressible vitality of the community.
The huge ensemble of 23 actors and three musicians fill the theatre with an ever-changing parade of flamboyant characters and the pulsating energy of a village carnival is brought to life with some wildly enthusiastic folk dances.
Speaking from the perspective of the common people, the play delivers a blistering satire on the corruption of India's ruling class who are so addicted to ostentatious display that they hire poor women to weep and wail at their funeral rituals.
Playing the part of the rudali - or professional mourners - Patricia Vichmann and Monica Mahendru give strong emotionally driven performances. Their intimate friendship creates an oasis of peace in a world of brutal animosity and reinforces the play's central idea that social change depends on establishing healthy human relationships.
Anya Banerjee brings a vivacious energy to her portrayal of a rebellious wife who embraces the outcast status of the village prostitutes in order to escape from the oppressive power structures within the family.
The rich fabric of the rural community is expressed with lively characterisations of village hustlers and entrepreneurs while the perversities of India's elites are revealed in performances that expose the pompous hypocrisy of the village elders and their priestly supporters.
With such a large cast there is some unevenness in performance but co-directors Amit Ohdedar and Margaret Mary Hollins keep the drama flowing with effective use of live music and some sharply choreographed set pieces.
What: Rudali - The Mourner
Where: TAPAC until May 27