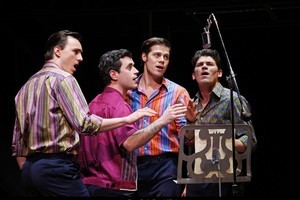 The Four Seasons - at least the Jersey Boys' actors who play Frankie Valli, Tommy DeVito, Nick Messi and Bob Gaudio - are in full swing on the stage of Sydney's Theatre Royal. It's Walk Like a Man, delivered with soaring harmonies and deft footwork.
While their synchronised dance moves - like a dapper version of the running man-meets-MC Hammer - look a little old-fashioned, it's just like being back in the heady days of the early 60s. That 1963 song, written by Gaudio, was the band's third No. 1 hit following Sherry and Big Girls Don't Cry, and made these boys from the wrong side of the tracks genuine pop stars.
It's their story that is told in the hit stage show, which is a mix of musical and documentary as it charts the band's origins on the mean Mafia-ruled streets of New Jersey, their rise to the top of the pops where they rivalled - and in some cases beat - the Beatles, and the aftermath; what became of the four key members.
They were dodgy tough guy DeVito, the intimidating but musically gifted guitarist and baritone who discovered Valli in the mid-50s and taught him the showbiz ropes; his quietly spoken friend, bass player, and vocal harmony whiz Massi; then there's the golden-voiced Valli whose vast range and famous falsetto made their songs unique; and finally the tall, slightly dorky looking songwriter Gaudio who wrote the hits that made them famous.
It's Massi who has many of the musical's best lines - "The man is not properly socialised," he quips about DeVito.
But it's when he says to the audience, "You sell 100 million records and see how you handle it?", where you realise the scale of their success. In fact, the Four Seasons went on to sell 175 million records. The endless touring took its toll on all the members in different ways - which makes for a ripping yarn.
The other thing that makes Jersey Boys such a great show is the non-stop action. As the set morphs constantly from bar room to bowling alley, and bedroom to recording studio, there is a constant flow of singing and dancing and snappy Jersey lingo in the dialogue from a cast of musicians, Mafia heavies, and a stream of lovely ladies.
And much like Frankie Valli and the Four Seasons in their heyday, Jersey Boys has hit song after hit song, taking in everything from first No. 1 Sherry, through to classics Bye Bye Baby (Baby Goodbye) and Working My Way Back to You, on to the 70s disco fever of Who Loves You, and beyond.
There is not a down moment in the 2.5 hour performance, which ends its season in Australia this month before heading to New Zealand for the first time next year.
A poignant moment in the show comes when Gaudio and Valli - who had forged a special friendship right from their first meeting in 1960 - reach a unique agreement. Gaudio agrees to give Valli half of everything he earned as a writer and producer, and in turn Valli agrees to give Gaudio half of his earnings from performances. Rather than sealing the deal with a signature, they shake on it.
And the real Bob Gaudio, speaking to TimeOut on the phone this week from his home in Nashville, says: "It's still in existence today."
He remembers vividly the first time he heard Valli's voice: "It was the extraordinary range. He was just a natural and there are very few artists that can claim such a distinctive voice and he could sing Mary Had a Little Lamb and make you cry."
Gaudio wrote songs like Can't Take My Eyes Off You especially for Valli, to show people the true range and quality of his friend's voice.
He was also instrumental in Jersey Boys making it to Broadway in 2005 - and going on to become a worldwide hit.
He first started thinking about a theatre show when Can't Take My Eyes Off You was used in classic 1978 film The Deerhunter.
"That was the first time it occurred to me that our music could be used in another medium - and a film as powerful as that was very affecting for me. And I thought, 'Imagine if we could do something in the theatre'. And so after Mamma Mia [which premiered in London's West End in 1999] the doors were opened, obviously," he laughs.
Jersey Boys made its debut in 2004 at the University of California in San Diego, before hitting Broadway. Since then it has toured North America, and had runs in the West End and in Australia, picking up six Tony Awards including best musical in 2006.
"For Frankie and I, telling the stories and reliving them was quite an experience ... it's funny, it was like sitting in a pub: you just start telling stories and all of the sudden they just flow. And I don't think either one of us realised the impact some of these stories had until we saw it on stage.
"It's like your life flashing before you."
This was especially true for Valli who had some dark moments in his life, including the death of his daughter Francine from a drug overdose.
Jersey Boys is authentic and both Gaudio and Valli agreed there should be "no holding back" if the story was to be told.
"The music is honest and the story has to be just as honest. It's what, in America, we call warts and all," says Gaudio with a laugh.
While Gaudio was different from the rest of the band, he was a worldly young chap, having "gotten out on to the street early on", and scored a chart hit with Short Shorts as a 15-year-old, so didn't feel out of place alongside the likes of "Tommy the lovable rogue".
All he wanted to do was write songs and get them played and Valli's voice, and the Four Seasons as a band, were the ideal platform.
"It was always about the music for me and there wasn't anything in my mind that was ever going to stand in the way of that. That was my purpose. That's what I do," he says.
* Back on stage in Sydney, at the end of the show it's confession time for the band as they are inducted into the Rock 'n' Roll Hall of Fame. DeVito is resolute and cocky to the end, albeit with hints of remorse about his bad boy behaviour and the large debts he ran up (that Valli paid off).
And Massi, well, Nicky is as deadpan and humble as ever. In contrast Gaudio is beaming and telling us his life never revolved around the "old neighbourhood" of Newark, New Jersey, like the others.
"I couldn't give a **** about the old neighbourhood," he says cheekily.
It's nothing against Newark, because it's just as the real life Gaudio points out above, it was all about the music. It was all about the songs.
That's Valli's thinking too when he ponders what was the high point of the Four Seasons.
"When it was just four guys under a street lamp, the first time we made that sound, our sound, when everything else dropped away and all there was was the music. That was the best." With that they make like Isaac Hayes playing Shaft-meets-Travolta in Saturday Night Fever for the disco finale of Who Loves You. Oh, what a night.
Lowdown
What: Jersey Boys, the story of Frankie Valli and the Four Seasons
When: From April 10 Where: Civic Theatre, Auckland
Also: Singers from Jersey Boys feature at tonight's Coca-Cola Christmas in the Park
-TimeOut