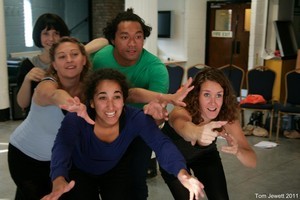 When I meet director Stella Duffy and other members of Shaky Isles Theatre at their rehearsal space as they prepare for the inaugural performance of their latest offering, Taniwha Thames, I expect more than a guarded "all right" when I ask how preparations are proceeding. But that was two weeks ago.
The London-based New Zealand drama company has used Open Space Technology to create the 90-minute show, which opens next Monday at the Ovalhouse, across the road from the Oval cricket ground in south London. Used by collective-style organisations to workshop ideas, OST allows all members of the group to contribute to the work-in-progress.
"The list of what we know is quite a long list and the list of what we don't know yet is less than that, which is really good," laughs Duffy. "Most of the parts have been cast and most of the first act has been ordered. That's pretty good for a devised play two weeks away from opening night."
According to Duffy, their more improvisational approach was commonplace in British theatres in the Bard's day. "It's only kind of different because a lot of what we do is making it and creating it together and then writing up bits from what we've improvised," she says, pointing towards actor Rosella Hart, who is working on a scene as we speak.
"But you would do that if you were doing a Shakespeare play and Shakespeare also did that. Shakespeare didn't hand his actors finished scripts; he used to hand his actors scripts that were written specifically for individual characters, not all of which were finished and a lot of which was found in rehearsal. We have finished scripts now but it's quite a modern idea that a play gets finished by a writer and then handed on to a cast."
Springing out from the idea that a taniwha is lurking in the dank depths of the Thames, the play explores the sense of dislocation felt by expat New Zealanders and other foreign nationals who call London home.
"We've all been here a long time and as you meet more and more people, you realise how many of the people who live here are actually from somewhere else," says publicist Kathryn Stewart, who points out that several members of the cast hail from Britain and the United States.
"They might have come down from the north or have moved here from Portsmouth, Ethiopia or New Zealand. I certainly began to notice that my experience often had more in common with other people who had come to London than it did with Londoners, who had been born and bred here. There's something quite universal about that experience and the assumptions that you make, the conflicts that you feel and the relationships you forge."
Duffy says: "It's not to say that there isn't quite a lot of New Zealand in there, because there is. There are tonnes of that because it's about a taniwha. But it's more about the pull of the city and what happens if you get stuck or feel like you're stuck in a city."
Born in Woolwich and raised in Tokoroa, Duffy definitely knows that feeling. She returned to London in her 20s, intending to only stay for a few years but she is still here more than two decades later. Now living in Brixton with her wife, Shelley Silas, she has written 11 plays and 12 novels including last year's Theodora, Actress, Empress, Whore. She previously directed Matthew Saville's Kikia te Poa as part of Shaky Isles' debut season in 2007. She will introduce Taniwha Thames to the audience, raising a toast to the legendary Maori leviathan with water apparently gathered from London's numerous hidden rivers like the nearby Effra.
"The idea is that it will be me playing me, the person who is the director and has written some of it, which is for the British people and also to wrong-foot the Kiwis by talking about the taniwha as if it is real, because it is," she laughs. "The taniwha is created out of frozen water, out of the ice. We've got these real London facts that we're trying to dot about, such as where we are now in Kennington. It used to be a marsh and the gardens that fed the City of London were here because of all the silt flooding, which made it incredibly fertile. As well as New Zealand and other places, we've got a sense of this particular part of London."
Running for three weeks, Taniwha Thames is Shaky Isles' most ambitious production yet and founder and actor Emma Deacon hopes it will be the first show they eventually take home. "It's something we've been talking about for a couple of years," she says. "We would love to be able to share it with a New Zealand audience in New Zealand because there will be people there who have lived here or anywhere else in the world, for whom it will have massive resonance. New Zealanders are such big travellers and such a large percentage of our population doesn't live at home. It's about the diaspora experience."