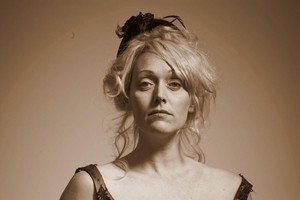 Gothic thriller/horrors written specifically for theatre are rare beasts - and it's even more unusual to find one by a New Zealander best known for plays about the impact of modernity on Maori.
Trust the good folks at the Basement Theatre then to ferret out Albert Belz' award-winning 2006 Jack the Ripper play Yours Truly to headline its boutique arts festival Basement Fest 2011.
Festival producers Sam Snedden, Charlie McDermott and Beth Allen describe the three-week event as "a giant goodie bag" of cabaret, theatre, visual art, comedy, spoken word and musical performances on the cutting edge of the country's arts scene.
The offerings eschew rugby - something the production team is leaving Sam's uncle Martin Snedden, as Rugby World Cup 2011 CEO, to focus on.
Yours Truly fits the bill perfectly.
Set in 1888 during serial killer Jack the Ripper's "autumn of terror", it's a romance - albeit a twisted one - which deftly manages to highlight contemporary concerns about class, gender, money and power while keeping audiences chewing on their fingernails and wondering whodunit and who will be next?
When Yours Truly débuted in Wellington in 2006, it sold out and won critical acclaim along with a swag of Chapman Tripp Theatre Awards: Most Original Production, Production of the Year and Best New New Zealand Work.
Then, as the publicity states, like Jack the Ripper himself it disappeared out of the spotlight leaving Auckland theatre fans to ask why it wasn't heading north.
But for two years, theatre company The Rebel Alliance and Basement Fest producer Sam Snedden have been planning an Auckland season. They were unknowingly working on separate proposals for the play but were introduced through contacts and joined forces.
Rebel Alliance founder Anders Falstie-Jensen jokes about it being "high noon" in Grey Lynn when they sat down, "lattes blazing", to discuss the project. "But we soon discovered we thought the same way and had similar ideas so it was a match that was going to work."
The next hurdle was funding, which was granted only this year. It's the first time in The Rebel Alliance's five-year history that it has received a Creative New Zealand grant toward a production - despite 10 applications.
Falstie-Jensen, who has Auckland Theatre Company artistic director Colin McColl as a mentor on the project, has cast David Aston, Sam Snedden, Andi Crown, Dena Kennedy, Todd Emerson and Sophie Henderson.
Talk with Kennedy and Emerson and they'll tell you one of the enjoyable things about acting is researching different characters, places and time periods. It inevitably leads to speculation about whether, if it were possible, they'd want to travel back in time.
However, both are adamant that Whitechapel, London in 1888 holds no appeal. Kennedy says just reading about the squalid conditions, the limited opportunities for working class women and Jack the Ripper's reign of terror has given her nightmares.
Falstie-Jensen has given much consideration as to how visceral he wants to make Yours Truly. He agrees with Emerson that those coming to see a play about Jack the Ripper expect blood and gore.
But they've decided less is more and a chilling atmosphere can be created using hints of the horror inflicted by the Ripper, Sean Lynch's evocative soundscape and designer Jessika Verryt's dark and brooding set.
It must be easily moveable to make way for other shows in the Basement Fest. These include The Outfit Theatre Company's latest and most innovative offering to date, Love After Dark.
It brings together three teams of writers, directors and actors who start with the same snippet of script and setting - a flat at 1am in urban Auckland - and five characters. Each team decides what happens next.
With the aim to create original work for large casts, Love After Dark fits The Outfit Theatre's philosophy well.
It's also an opportunity for audiences to see how different writers work and how one beginning can lead to three very different endings.
Tom Sainsbury's latest play Crims debuts at the Basement Fest while Auckland Fringe Festival favourite Man Bits gets a return season. For the full Basement Fest programme, see www.basementtheatre.co.nz
LOWDOWN
What: Basement Fest 2011
Where & When: Basement Theatre, 28 September - 22 October