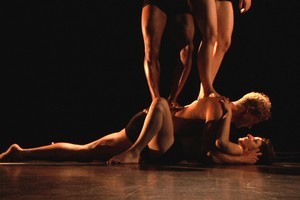 If Telecom had not dropped the abstain campaign it would almost certainly have been blown out of the water by Dust Palace's exuberant paean to the joys of erotic indulgence.
The show opens with an explosively acrobatic dance duet that is counterpoised with a hypnotically seductive lyric on the delights of lilac wine.
This combination of extreme physicality and intense lyricism is a recurring motif as Venus Is searches for a way to define the goddess of love.
While there is a fair bit of X-rated material the show focuses on the point where eroticism shades into love and the interlocking of bodies becomes inseparable from the entwining of souls.
The show offers up a smorgasbord of theatrical forms with acrobatics, contemporary dance and puppetry interwoven with song, recitations and dramatic sketches.
The textual quotations are similarly eclectic, ranging from the devotional literature of a 13th century nun through to the matter-of-fact tone of a 1970's instructional sex manual.
Some of the performers lacked the vocal technique to do justice to the lyric poetry and Shakespearean sonnets but the show is cleverly anchored with performances by Edward Newborn and Lynn Waldegrave who capture the elegiac tone of an elderly couple trying to rekindle the flame of their youthful passions.
In cabaret style, the performance space flows around the seating plan and while sight lines were not always ideal, the staging built an intimate bond between the actors and the audience. A few lucky theatre-goers were swept off their feet as the cast proffered roses, champagne and grapes while Ebon Grayman, in the guise of a silkily seductive satyr, proclaimed extravagantly romantic love lyrics.
But the highlights of show come with the superbly choreographed acrobatics featuring the finely muscled bodies and disciplined athleticism of highly trained performers.
Memorable moments include Mike Edward and Eve Gordon's thrilling duets, an erotic ballet by Geoff Gilson and Amy Richardson-Impey that spiraled around the four metal poles of a double bed, and some perilous, slow motion tumbling as Eve Gordon entangled herself in the silk ropes. The first outing for Q Theatre's studio space suggests it will be an ideal venue for dance and experimental theatre.
What: Venus Is
Where: Q Theatre,The Loft, to September 17