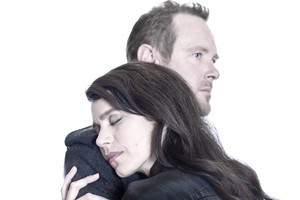 Bathrooms and bath tubs feature prominently in two productions opening in Auckland this week. In the first, the international circus/cabaret style Soap - The Show, the tubs - and artfully splashed water - are a means to show off the human body; not to mention the rippling pecs and abs of some of the male cast members.
But in Silo Theatre's The Only Child, the bathroom and the bath itself are more potent visual metaphors. Three of the actors may at times perform fully naked, but the play's focus is on their souls rather than bodies as modern relationships are stripped bare.
But the text comes from a source many may consider unlikely: 19th century Norwegian dramatist Henrik Ibsen. Silo artistic director Shane Bosher acknowledges we don't see much Ibsen in Auckland and he is characteristically frank about the reasons.
"I think Ibsen has been associated with boring, old-fashioned plays with women in corsets sitting around and talking about how depressed they are.
To a certain extent, this has led to Ibsen being given a bad name for producing worthy and earnest 'museum style' theatre."
This raises the eyebrows of actor Stephen Lovatt, who plays flawed father Alfred in The Only Child.
"I don't see him like that at all," says Lovatt. "For me, Ibsen's an amazing modern playwright with a hard edge and an intellectual rigour. I think his plays push audiences to think and feel about the 'big stuff'. He doesn't wimp out or take the easy option. There's no cheap exits; people stick up and fight for themselves."
All of which Bosher agrees with. He's talking about questions of perception likely to be dramatically altered via The Only Child.
Refusing to believe Ibsen's lesser known 1894 Little Eyolf was an example of thought ossified in a script, Australians Simon Stone and Thomas Henning, of Melbourne's Hayloft Project, used it as a starting point to tell an urban story about modern relationships.
Modernising older texts is something Stone has gained an at times controversial reputation for. His self-funded company Hayloft Project has "blown the dust off" a number of classic works including Chekhov, Frank Wedekind and Roman playwright Seneca.
This year, he presented a new take on another Ibsen play, The Wild Duck, which audiences flocked to and critics argued about. Some said it was cultural vandalism; others declared it was liberating.
It seems to have served Stone well, though. At only 26 years old, he's now resident director at the Belvoir St Theatre in Sydney.
For The Only Child, Stone and Henning kept the four main characters and dispensed with all but the central focus, which is Rita (Josephine Davison) and Alfred (Lovatt) who have lost their only son and, because of this cataclysmic event, are forced to look at what remains of their relationship.
Once deeply in love, they embarked on a life together which somehow has degenerated into a mass of resentment, sexual frustration and misdirected fury. Now they're alone and locked in a bathroom. Bosher says Ibsen may not be performed often because his work is also difficult to cast.
"You need actors who are mercurial, who have a delicious sense of irony and who have no problems with accessing a depth of emotion. Every part has to be cast with top-shelf talent."
The play was written with characters in their 30s, but Bosher approached slightly older actors Lovatt and Davison for the lead roles, feeling they had the required depth, along with Claire Chitham and Sam Snedden to play pivotal supporting parts.
"I've been a fan of Josephine's for as long as I can remember. A number of years back she was absolutely fearless in a production of Sarah Kane's Blasted; she was a visceral, gripping and courageous presence. But because she's spent a number of years overseas I've never had the opportunity to work with her until now.
"Claire has an openness as an actor I really admire. She's really interested in the frailty of the human condition, at celebrating the flaws and contradictions in people.
"The character she plays, Asta, works on so many levels at the same time and has to deftly negotiate the interaction of public self and private derangement, which is an Ibsen trademark. She was my number one and only choice for the role."
Bosher intends to employ a "European sensibility" and draw on cinematic influences from the likes of Lars Von Trier, Michael Winterbottom, Ingmar Bergman and Gasper Noe, while musical wunderkind Leon Radojkovic, of Doctor Colossus fame, has been commissioned to compose the soundtrack.
Bosher and Lovatt say it will add up to a fast-paced and provocative production.
"It's one of those scripts where each scene builds on the previous one but it goes in directions an audience might not expect," says Lovatt. "It really is the type of story which works by projection - an audience will sit there and understand and sympathise and recognise the position these characters are in and be thinking, 'this could be me'."
Exactly what the revelations are have to go unexplained. Bosher says it would give too much away to describe the type of secrets and lies Rita, Alfred and their friends Asta and Henrik (Sam Snedden) are dealing with.
"If you start talking about it in too much depth, you take away the thrilling nature of the piece and make it sound earnest and worthy and gut-wrenching when it's actually superbly crafted, highly theatrical and darkly funny."
Performance
What: The Only Child
Where and when: Herald Theatre, August 26-September 17