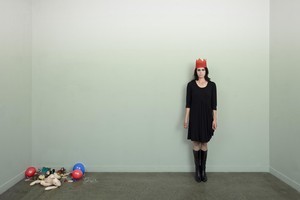 Former Shortland Street veteran Josephine Davison will bravely bare all for the dark comic play The Only Child.
When you take a peek at the career of Kiwi actress Josephine Davison it's like looking at a snapshot of the country's recent television history.
From those fresh-faced, early days of Shortland Street, romping through ancient Greece with Hercules and Xena, riding the wave of US-funded, locally filmed projects such as Power Rangers and on to the crown jewel of Kiwi telly, Outrageous Fortune, via less well, fortunate projects such as City Life and Street Legal.
For most people, though, Davison is probably most recognisable as Outrageous Fortune's raunchy Triad wife Suzy Hong.
The role required a little flesh-baring, thanks to a storyline involving illicit impregnation. And Davison's latest project is further proof that she's pretty fearless when it comes to baring all.
The actress stars in Silo Theatre's The Only Child, an intense, though blackly comic, play based on Henrik Ibsen's Little Eyolf.
It's about a once-golden couple forced to face the brutal realities of their marriage when the lustre has gone and their child goes missing. One scene requires Davison to get her kit off completely in front of a live audience.
Davison, though, shrugs off the role's nudity requirements. "When I double-checked the script and the level of nudity required, I wasn't worried at all," she says. "It's a moment in the play where it serves the play and then I get in the bath anyway."
As she goes through rehearsals, what is proving more difficult is examining the intricacies and complex emotions of motherhood as a recent mother herself.
"It is excruciating," she says bluntly. "But it's definitely more engaging.
"There might be other actresses out there who could do it, but I couldn't have played this role - understood this character - the same way if I hadn't been a mother."
It is Davison's first role here since returning from a stint in the UK and giving birth to her now 20-month-old son, Eli.
"I'm stoked to be back. It's been two years since I worked with Silo. The last time I was pregnant with my son."
And though motherhood has made her feel her character's emotions more keenly, for Davison there is an upside.
"At the end of the day I get to go home to my little boy and giggle, and laugh, and be silly, and connect with him. Some of the things this play deals with make me want to be as present with him as I can be."
In The Only Child Davison shares the spotlight with another Shortland Street and Outrageous Fortune alumni, Claire Chitham.
Davison says it's been fun sharing scenes with her, given they have never worked together before.
"Claire is a real delight - warm, funny and open. It cracks me up that we both played those characters on Shorty St but at different times and we never had scenes together on Outrageous."
She still gets recognised from those early, shaky set days on New Zealand's long-running soap as wacky cafeteria owner (and founding cast member) Gina Rossi. "Mostly, it's by people who just think I look familiar or they know me but can't place from where.
"It's scary to think about how long ago that was [1992-1995]. It was a life-changing thing, especially for those of us who were only about 17 or 18 at the time - it was quite intense being in the public eye.
"But I loved the people I worked with and I have very fond memories of the character I played. She was a hoot."
And if the character she plays in The Only Child is less of a hoot she still rates Davison's approval. "She makes you think about what women and mothers go though that is underrated and taken for granted.
"When we first started I thought there was just too much in this, that we'd never get it across.
"Then you start rehearsals and the layers fall away and you see just how beautiful the writing is. And the thing I love is that it keeps the audience guessing."
The Only Child, by Silo Theatre, is on at the Herald Theatre, Aotea Centre, Auckland, August 26 to September 17. To purchase tickets go to www.buytickets.co.nz or ph (09) 357 3355.
- Herald on Sunday / View