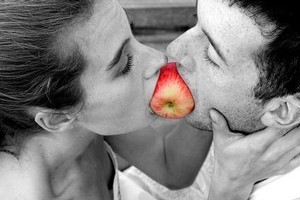 Skin Tight is a pretty little thing, a paean to romance in less than an hour, and while it lacks depth, the interaction between its two lovers is tender and playful. They "galumph" about, engaging in rough housing, knife play, tickle fights and water splashing. The tableaux they create as they loll over each other, reminiscing about their marriage, is charming.
First performed in 1994, this Gary Henderson play takes its characters' names and some of its plot points from Dennis Glover's classic poem The Magpies. But where his tale is one of tragic loss in a tough world where hard work is no guarantee of success, this Charlatan Clinic production offers the comfort that loss doesn't matter much, as long as you still have love.
The question "ah, but what if it is love you lose?" isn't raised. As with many stage lovers, these ones seem to have been unusually sure of each other all along and we don't get to see how their relationship has developed. At one point Elizabeth (Julia Croft) says that the "biggest deceit of all" is the idea that love is "an easy thing", but this potential complexity isn't explored.
Given its conventional portrayal of true love, war and Canterbury scenery ("the sun sparkled off the river"), the play's strength is the easy physicality between Croft and Chris Neels as Tom.
Directed by Melissa Fergusson, they fill the stage with their antics and their beauty. The play's dream-logic presents the lovers as timeless, as young as they see each other in their 1940s singlet and petticoat, and it works well. At the end, however, it would have made more sense for their disrobing to represent frailty and vulnerability rather than heightened passion.
At $29, Skin Tight is skin deep, but perhaps pretending life is this easily glossed is nice for a change.
What: Skin Tight.
Where and when: Musgrove Studio, Maidment Theatre, until Sunday.